Singapore women in the finals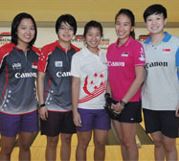 PBA-World Bowling Tour Thailand 2013 Three-time Collegiate Bowler of the Year, Jazreel Tan headed five other Singapore women into the finals of the PBA-World Bowling Tour Thailand 2013 underway at Blu-O Paragon on Friday.
Jazreel, who was in the top 7 bracket of the qualifying leaderboard briefly, dropped down into the second bracket in 11th position after she amassed a 9-game aggregate of 2085 from 734, 696 and 655 series.
Improving her lowest series of 655 with another squad could put her back into the top bracket thus skipping two rounds and automatically into Round 4 finals. American PBA pro, Sean Rash surged into the top of the standings with 2156 after being fifth before his stunning 746 series.
Ex-Thai national youth, Phumin Klanbida, who led briefly, settled for second spot with 2150 while early pace-setter and 2013 Asian Championships gold medalist, Yannaphon Larpapharat of Thailand slipped down to third with 2145.
2012 Qatar Open champion, Mika Koivuniemi of Finland, Sithiphol Kunaksorn of Thailand, Mohd Amirul Shah of Malaysia and Kim Bolleby of Sweden occupied fourth to seventh positions of the top bracket.
2013 ABF Tour Thailand leg champion, Angkana Netrviseth of Thailand took eighth position as the top local qualifier with 2062 to join the top 7 for Round 4 finals.
Jazreel finished 11th behind 2013 World Championships Team gold medalist, Osku Palermaa of Finland, who headed the second bracket in tenth position with 2090.
4th AIMAG gold medalist, Daphne Tan joined Jazreel in Round 3 finals in 14th position with 2072. Cherie qualified in 21st position with 2009 and Bernice Lim in 23rd with 1999.
New Hui Fen and 2013 Indonesia Open champion, Geraldine Ng will have to contest Round 2 finals in 26th and 28th positions with 1991 and 1974 respectively.
18 qualifiers from positions 25 to 38, two additional local qualifiers in positions 39 and 40 plus two from the desperado squad will bowl 6 games in Round 2 finals on October 20.
The top 10 finishers plus the 16 seeded qualifiers from the second bracket will bowl another 6 games in Round 3 finals. The top 12 finishers will be joined by the top 8 seeded qualifiers from the top bracket will bowl the final 6 games in Round 4 finals.
The top 7 plus the top local will advance to the TV Shootout finals on October 21. The champion stand to win the top prize of 1 million Thai Baht (approx. US$32,360) with the first runner-up earning 500,000 Baht and 300,000 Baht for the second runner-up.
Detailed scores: Qualifying Standings | Photo Album.
Photos by Terence Yaw in Bangkok.