Two Singaporeans on the winners' podium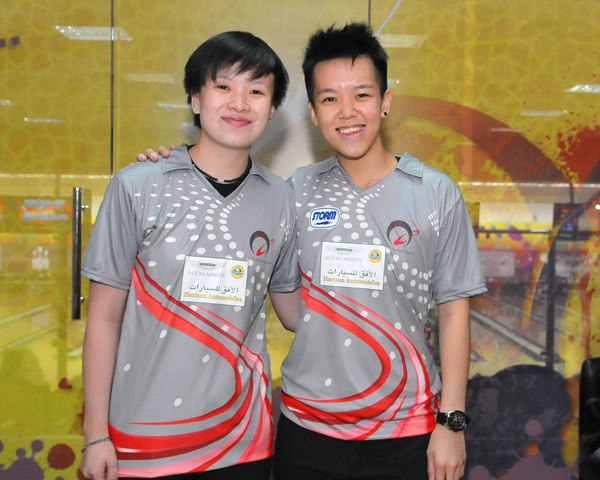 27th February, Doha: SBF Bowler of the Year, Shayna Ng and reigning national champion, New Hui Fen advanced into the next stage of the PBA-WBT #7 H.H. Emir Cup 2014 in a star-studded field of the Step 1 finals on Thursday.
Hui Fen started off better than Ng in the finals with 233 and 227 but were in mid-table of 30 finalists as debutant, Brad Angelo of USA led with a big game of 278. Two-time DHC-IBA winner and last year's PBA-WBT Saudi Open champion, Tommy Jones of USA took over the running after the second game.
The two Singaporeans continue to find their striking power with Hui Fen managing only 214 and Ng 203 and were at the bottom half of the field of 30 finalists. Light begun to shine on the duo as Ng picked up pace with 258 and Hui Fen 239 in the third game.
Two-time USBC Masters champion, Jason Belmonte of Australia rolled two consecutive superb games in the second and third to move into the lead with Mika Koivuniemi of Finland trailing in second.
Hui Fen was able to maintain a good pace with 225 in the fourth to place herself in the top 10 while Ng suffered a lowly 215 to drop into 14th position. The two-handed Aussie almost rolled the tournament's sixth perfect game but left a stubborn pin 10 to remain in the lead.
Belmonte ended the final with 278 to cement top spot with 1330. Ng rolled a big game of 279 to leapfrog into second with 1222 and Koivuniemi took third spot with 1218.
Hui Fen came home with 221 to finish ninth and crucially made the top 10 cut with 1172. American PBA pro, Chris Barnes also shot a big game in the fifth with 278 to finish fourth with 1201.
Newcomer, Santiago Mejia of Colombia rounded out the top 5 with 1195, 1 pin ahead of the sole Qatari survivor, Yousef Al-Jaber in sixth with 1194. Perfect gamer, Craig Nidiffer of USA, and compatriot Tommy Jones finished seventh and eighth while the tenth and final spot went to Khaled Al-Dubyyan of Kuwait with 1171.
Desperado qualifier, Michael Mak of Hong Kong and a second Kuwaiti, Basel Al-Anzi both missed the cut with 1169 and 1166 respectively.
Four other Singapore finalists, Cherie Tan, Joey Yeo, Daphne Tan and desperado top qualifier, Keith Saw did not advance after managing 17th, 18th, 28th and 29th positions.
The remaining two Singaporeans, Bernice Lim and Jazreel Tan are amongst the 6 seeded qualifiers who will contest the Step 2 finals tomorrow.
The top 10 finishers will join the 6 seeded qualifiers for another 5 games in Step 2 finals. The top 4 will advance to the stepladder shootout finals and a chance to pocket the top prize of US$25,000 and 50 valuable World Bowling Tour ranking points.
Detailed scores: Step 1 Finals | Photo Album.
Photos by Terence Yaw in Doha, Qatar.