Singapore wins third gold and third silver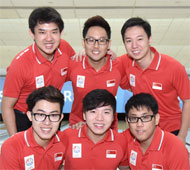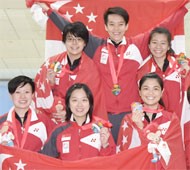 11th June, Singapore: First block leader of Cherie Tan, Shayna Ng and Bernice Lim crusied to a commanding victory in the second block to win the Women's Trios and Singapore's third gold medal while New Hui Fen, Jazreel Tan and Daphne Tan added a third silver.
The first Singapore trio led from the word go in the second block reeling in 672, 657 and 615 for a recrod-breaking three games series of 1944 to win the gold with 3863 total. Cherie posted 1284, Bernice 1313 and Shayna 1366.
Their compatriot and second Singapore trio of Daphne Tan, New Hui Fen and Jazreel Tan, who was fourth in the first block, gave Singapore a one-two finish to take the silver medal with 3707.
Alexis Sy, Maria Arles and Lara Posadas of Philippines, who was second in the first block, hung on for the bronze medal with 3608, just 23 pins ahead of the second Malaysian trio of Natasha Roslan, Siti Safiyah Amirah and Syaidatul Afifah with 3585.
The first Philippines trio of Liza Del Rosario, Krizziah Tabora and Liza Clutario rounded out the top five with 3579 while Doubles gold medalist of Sin Li Jane, Esther Cheah and Shalin Zulkifli ended in a disappointing ninth.
Singapore women also occupied the top two spots in the All Events standings after 18 games. Shayna Ng topped the table with 3887 followed by Jazreel Tan in second with 3838. Esther Cheah slipped down to third with 3813.
Daphne Tan lies in fourth with 3797, New Hui Fen sixth with 3747, Bernice Lim seventh with 3625 and Cherie Tan eighth with 3715.
Meanwhile, Singapore's second trio of Javier Tan, Howard Saw and Keith Saw was unable to mount any challenge to the Malaysian trio and had to settle for the silver medal with 3656.
Singles gold medalist, Muhd Rafiq led his team-mates, Ahmad Muaz and Timmy Tan to another good start with 608 in the fourth game as their compatriots and second Malaysian trio of Adrian Ang, Alex Liew and Johnathan Chan regained second spot from Indonesia.
Despite an averaged 585 in the fifth game, the leader kept their lead and extended their margin to 30 pins while Singapore's second trio closed in onto the leader to take up second.
The Malaysian kept their composure to end the block with a splendid 613 to seal the gold medal with 3701.
Indonesia's first trio of Ryan Lalisang, Billy Muhdammad Islam and Hardy Rachmadian stormed home with a sizzling 647 to snatch the bronze medal with 3653 while the second Malaysian trio slipped down to fourth and missing the podium by 46 pins with a total of 3607.
The first Singapore trio of Muhd Jaris Goh, Justin Lim and Joel Tan completed the top five with 3602 while Thailand, who were second in the earlier stage finished sixth.
Ryan Lalisang continued to lead the Men's All Events standings with 3914 after 18 games bowled from three events. Doubles gold medalist, Keith Saw and Muhd Rafiq Ismail also remained in second and third with 3852 and 3845 respectively.
Javier Tan lies in ninth position with 3630, Joel Tan 13th with 3604 and Howard Saw 15th with 3577. Justin Lim is in 23rd position, 78 pins off 16th position which is the cut for the Masters finals.
Competition will shift to the 5-player Team event, again to be contested over two blocks of three games on the long and medium oil patterns.
Photos by Terence Yaw in Singapore.