Singapore wins silver and bronze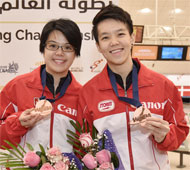 9th December, Abu Dhabi: Cherie Tan won the Singles silver and Shayna Ng the bronze medal to give Singapore a good start at the Women's World Bowling Championship 2015 while Korea picked up the gold and a bronze medal.
Jeon had a better start in the final match with a double strike in her first two frames. As Tan stumbled to a split in the fourth frame, Jeon went on a strikefest while the Singaporean southpaw failed to make any progress.
The Korean struck home to take a comfortable victory to win the first gold medal of the championship. The champion had dispatched the other Singaporean and fourth-seed, Shayna Ng 266-238 in the earlier semi-final.
"The Korean was better matched up to the lanes that I was," said the 26-year-old winner of this year's Euromed-Storm International Masters title back in September this year in Manila.
"I had a bad break in the fourth frame and when Jeon just didn't stop striking and I was playing catchup, I had to be content with the silver. It's still a good start overall and I hope I can make amends in the Trios semi-finals later."
Tan rolled a big game to beat the other Korean and second-seed, Hwang Yeon Ju, 250-160 in ther other semi to advance to the final match.
Jeon had qualified for the medal shootout semi-finals after topping the preliminaries on December 7 with 1457. Hwang gave Korea a one-two finish in second with 1408. Tan topped the second squad with 1395 to qualify as third-seed.
Her team-mate, Shayna Ng gave Singapore a one-two finish in second in the squad with 1366 to clinch the fourth shootout semi-finals. The semi-finals and finals of the Trios event will take place later today.
The third Singaporean New Hui Fen, who finished third in the second squad, had missed the semi-final by five pins for fifth position overall.
Detailed scores: Singles Semi-final and Final | Singles Combined | Medal Photo ALbum.Photos by Terence Yaw in Abu Dhabi, UAE.