Singapore wins Seotopo Cup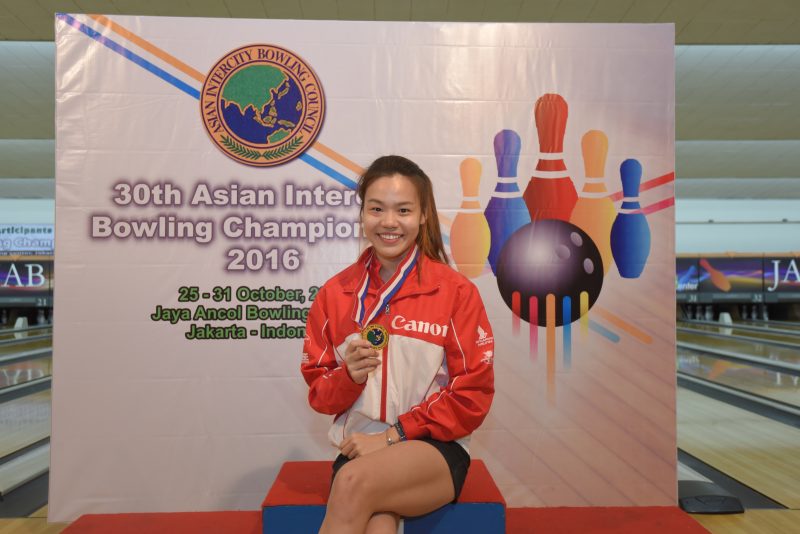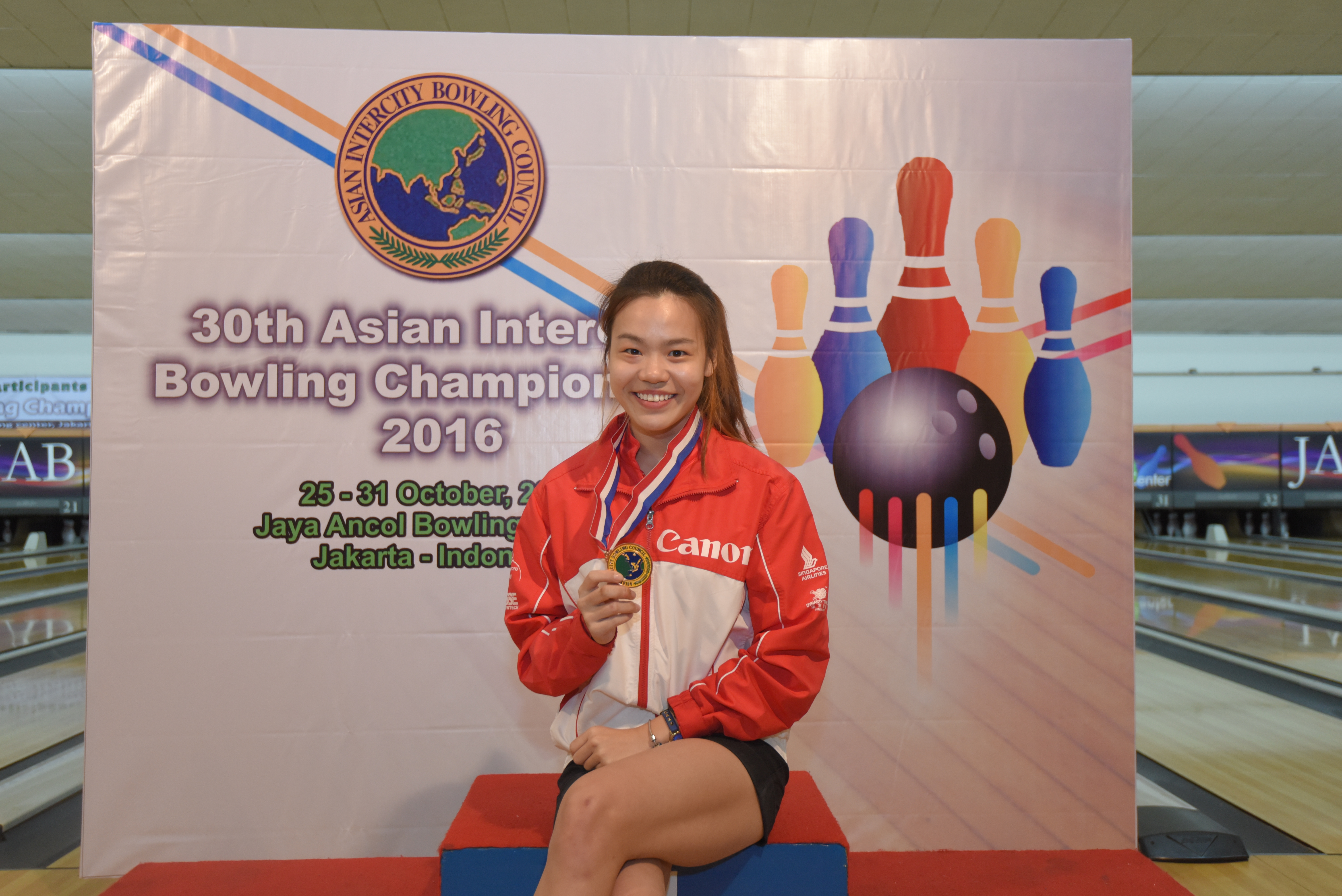 30th October, Jakarta: Singapore emerged as overall champion of the 30th Asian Intercity Bowling Championships to win the Seotopo Cup after Doubles gold medallist, Tay Hui Wen picked up the bronze medal in the Women's Masters event.
Tay, seeded No. 11 won her opening round of the head-to-head best-of-three Masters elimination finals by defeating Zarina Halim of Shah Alam, 2-0 to advance to the next round. Singles gold medallist, Amanda Lee also won her first round defeating No. 14 seed, Iffah Nadhirah of Shah Alam, 2-0.
Iliya Syamin breezed past No. 5 seed and Team gold medallist, Krizziah Tabora of Paranaque, 2-0 while Doubles gold medallist, Joy Yap eliminated another Paranaque finalist, Ma Lourdes Cruz Arles also by a 2-0 victory.
Except for Tay, all her three team-mates were knocked out in the second round quarter-final. Syamin lost 1-2 to top seed, Lara Posadas of Paranaque, Yap lost to Tay 0-2 in the all-Singaporean round and Lee crashed out after losing to No. 10 seed, Vanessa Wong of Macau, in a 9th and 10th frame tie-breaker, 28-60 after both tied at 192 in the second match.
Tay Hui Wen with her Masters bronze medal
But Tay's fine run came to an end when she lost to eventual champion, Posadas in the third round semi-final. Tay lost the first match, 178-195 but fought back to take the second match 203-173 to force a third deciding match.
The 22-year-old Singaporean narrowly lost to the Filipina, 215-217 to settle for the bronze medal. Posadas successfully defended the Masters title after she beat Wong, 2-0 in the final to win her third gold medal.
She won her first gold medal in the Team event and picked up her second gold in the All Events. Wong, who settled for the silver medal, edged Yancheng's Peng Rui, 2-1 in the other third round semi-final match to advance to the championship round.
In the men's all-lefty championship match between No. 1 seed and two gold medallist, Jimmy Cheung of Hong Kong and another two gold medallist, Shin Soon Chul of Daegu, Cheung was denied his third gold when he lost to Shin, 0-2 to picked up his second silver medal.
No. 5 seed and Singles silver medallist, Ahmad Safwan crashed out in his opening round, 0-2 after losing to No. 12 seed, Kevin Oliver Cu of Paranaque. No. 11 seed, Marcus Kiew defeated Basil Ng, 2-0 in the all-Singapore opening round encounter.
Singapore's hope of a gold medal for the men division was dashed when Kiew lost to No. 4 seed, Park Min Su of Daegu, 0-2.
Shin's victory in the Masters gave Daegu its third gold to seal the Men's Seotopo Cup with 29 points in the medal standings from three gold, one silver, three bronze medals and a fourth-place finish. Hong Kong settled for second with 18 points from two gold and 2 silver medals.
Singapore men finalists, Ahmad Safwan, Marcus Kiew and Basil Ng
Paranaque won one gold medal more than Singapore but had to settle for second in the Women's medal tally with 22 points from three gold, one silver and two bronze medals. Singapore clinched the Women's Seotopo Cup by 23 points from two gold, two silver and two bronze medals.
Although Singapore's men did not win any gold, their one silver and one bronze was good enough to clinch Singapore the Seotopo Cup after emerging as overall champion with 28 points from a total of two gold, four silver and three bronze medals.
Daegu finished second with 25 points and Paranaque third with 24 points. Hong Kong took fourth position with 18 points while Jakarta and Yancheng shared fifth spot with 6 points each.
Thirteen member cities of the Asian Intercity Bowling Council and three guest cities participated in the week-long championships held in Jarkata for the third time. The 31st Asian Intercity Bowling CHampionships will be hosted by Yancheng, China in 2017.
Detailed scores:
Women's Top 2 Final | Women's Top 4 Semi-Final | Women's Top 8 Quarter-Final | Women's Top 16 Final
Men's Top 2 Final | Men's Top 4 Semi-Final | Men's Top 8 Quarter-Final | Men's Top 16 Final
Photos by Terence Yaw in Jakarta.