Singapore wins first medal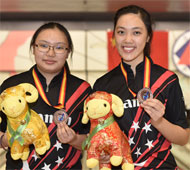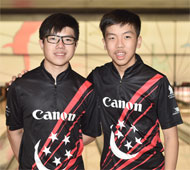 28th July, Hong Kong: A Team's first pair of Amanda Lee and Charmaine Chang won Singapore's first medal at the NTGCC 16th Asian School Tenpin Bowling Championships after finishing third in the Girl's Doubles event.
Singles silver medalist, Kim Jin Ju and Kim Hyo Min of Korea B Team set a cracking pace with 452 and 459 in their first two games to lead Malaysia's second pair of Faten Najihah and Nur Amirah Auni Azman by 25 pins.
Australia's B Team first pair of Emma Williamson-Genaline Ott and Charmaine Chang-Amanda Lee were well positioned behind the leading duo in third and fourth positions.
The Koreans kept the lead for another game before handling the lead to Malaysia after the fourth game as the Aussies and the Singaporeans remained in third and fourth.
Faten and Nur Amirah posted a big game of 464 to stretch their lead to 64 pins ahead of the Koreans and looked set to break Korea's dominance but chocked under pressure in their final game with 365 to hand the victory to Korea.
Jin Ju and Hyo Min snatched the fourth gold medal for Korea with 436 in their final game for a total of 2557, seven pins ahead of Malaysia having to settle for the silver medal with 2550.
Singapore clinched the bronze medal with a sizzling 465 in the final game for a total of 2460 to deny Australia, who missed the podium by 19 pins ending in fourth position.
"We knew we were closed to the Australian pair and had to go all out to win a medal in the final game," said the 17-year-old Amanda, who won the Doubles gold medal at the last Asian School in Jakarta, Indonesia.
"We thought we had lost our chance to win a medal after a poor fifth game, but we're glad Charmaine shot 253 in the last game to help win the bronze."
Singapore B Team's second pair of Jermaine Seah and Rena Ng was the second best finisher in eighth position with 2355. The pairing of Amabel Chua-Charlene Lim and Jenae Wee-Fiona Yew ended in 13th and 18th positions out of 29 doubles pairs.
Earlier in the morning, Aidah Poh and Jarred Lim was Singapore's best boys pair finishing sixth with 2568, 54 pins from third. Seo Hyo Dong and Kill Jun Seong of A Team won Korea's third gold medal with victory in the Boy's Doubles event with 2770.
Shinpei Sakahara and Riku Masui of Japan took the silver medal with 2670 while Hazeem Al Muraikhi and Singles bronze medalist, Jassem Al Muraikhi of Qatar A Team earned the bronze medal with 2625.
Singapore A Team's first pair of Marcus Kiew and Quek Qi En managed eighth position with 2496 while the two other pairs, Norman Cai-Ahmad Safwan and Nu'man Syahmi-Han Qin Oh ended in tenth and 19th positions respectively.
Competition will now shift to the Team of Four for the girls and boys with three games in the morning and three games in the afternoon. The top 16 girls and top 16 boys based on their 18 games total in the All Events standings will qualify for the Masters Finals.
Detailed scores: Girl's Doubles | Boy's Doubles | Girl's All Events | Boy's All Events | Photo Album.
Photos by Terence Yaw in Hong Kong.