Singapore, USA retains titles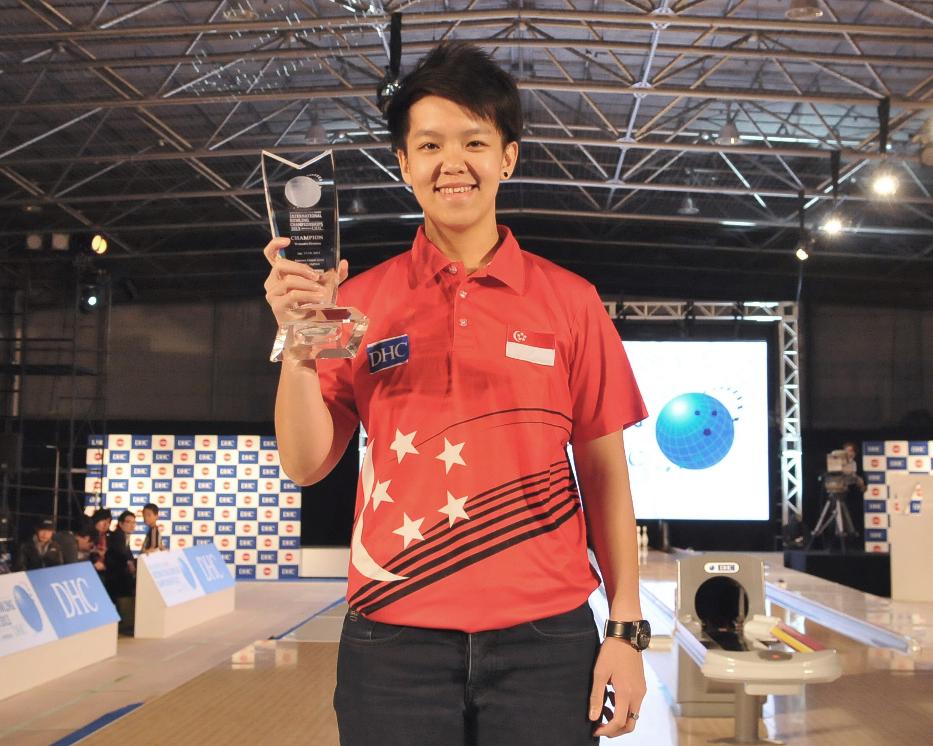 19th January, Nagoya: Reigning AMF World Cup champion, Shayna Ng retained the women's title of the PBA-WBT #4 International Bowling Championships 2013 for Singapore while American PBA pro, Tommy Jones successfully defended the men's crown.
Top seed, Shayna Ng got off poorly with an open frame but got into her usual strides by rolling five consecutive strikes to lead challenger and World Singles champion, Kelly Kulick of United States by 36 pins.
Kulick too had a bad break with an opened frame in the six leaving the Amercian playing catchup. The Singaporean struck out from frame nine to seal a emphatic victory, 248-201.
"I didn't have a good start but then I was determined to fight back," said the 22-year-old national team member. "Winning the World Cup in November was a great achievement for me and now to take another major title is simply fantastic."
The champion made the finals after posting another superb game in the second against two Americans, Liz Johnson and Kelly Kulick. Johnson, who finished second to Ng in the Round 1 finals, was eliminated after managing 201 while Kulick rolled 236.
Shayna Ng winning up her second major title
In the opening match of the women's TV finals, DHC's Nishimura Miki of Japan and third seed, Zandra Aziela of Malaysia were eliminated after rolling 195 and 212 respectively. Ng, Kulick and Johnson advanced after registering 218, 214 and 236.
The all-American men's title match between defending champion and top seed, Tommy Jones and fellow PBA compatriot, Sean Rash was a close game with very little seperating the duo.
Rash opened account with a double strike and another double in the sixth and seventh frames as Jones could only alternate spares and strikes right until the sixth and seventh frames when he finally struck twice.
A bad break for Rash came in the ninth frame when he made a seemingly perfect pocket shot only to see pins 7 and 10 standing firmly and leaving just five pins difference between them.
Jones spared and struck in the final frame while Rash downed seven and spared before striking in the final frame to lose the match narrwoly, 204-209.
Tommy Jones winning the men's title twice
"Sean (Rash) is a good bowler and tough opponent and I had to put in total concentration," said the 34-year-old holder of 13 PBA titles, Tommy Jones. "I guess I had the lucky break and Sean didn't.
"It's been a fantastic week although the format was slightly different this year. But I'm totally satisfied with my performance here and I look forward to coming back to Japan again next year.
Both the Americans eliminated 16-year-old Malaysian sensation, Rafiq Ismail in the second match. Jones rolled 229 as Rash topped the match with a splendid 247. Rafiq had two splits but still managed 200 to finish third.
Jones and Rafiq cruised through the first match with 261 and 268 with Rash rolling 215 eliminating third-seed and World Singles champion, Chris Barnes and JPBA southpaw, Suzuki Hiroki, who posted 180 and 190.
Both the champions picked up the top prize of 6 million Japanese yen (approx. US$75,000) each less 20.42% tax. The first runner-ups took home 3 million yen and the second runner-ups 1.5 million yen a piece.
In the earlier Special Trios event bowled in the Baker format, Team International trio of Mike Fagan (USA), Jang Dong-Chul (KOR) and Ryan Ciminelli defeated Japanese trio of Saito Shigeo, Tagata Kengo and Obara Teruyuki 245-193 to win 200,000 yen.
But the Japanese women trio of Asada Rina, Izumune Shion and Washizuka Shima defeated Team International trio of Jazreel Tan (SIN), Jacqueline Sijore (MAS) and Tannya Roumimper (INA) 204-170 to retain the title and win 200,000 yen.
The runner-ups earned 100,000 yen each. Honorary Life President of WTBA and JBC and organizing chairman, Mr Kyohei Akagi gave away the prizes to the Trios winners while Mr Kevin Dornberger, FIQ and WTBA President gave the prizes to the top 5 winners of the main event.
Mayor of Inazawa-Shi, Mr Toshiaki Ohno presented the mascots to both the men and the women top 5 winners. Distiguished guests, dignitaries, sponsors, team officials and players adjourned to the victory banquet hosted by JBC at Inazawa Grand Bowl.
A total of 136 men and 145 women bowled in the 9-games preliminary qualifying rounds over three blocks of 3 games each. The top 24 men and top 24 women advanced into the Round 1 finals for another 6 games over two blocks.
The top 5 men and top 5 women in the foregoing 15 games contested advanced to today's TV Finals Elimination, which was recorded and will be telecast on Janury 26 over NHK BS 1.
Detailed scores: Women's TV Finals | Men's TV Finals | Photo Album.
Photos by Terence Yaw in Nagoya.