Singapore takes first two spots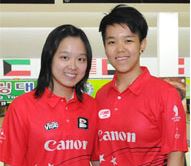 9th July, Daejeon, Korea: Jazreel Tan moved up into second spot of the Women's Open Masters overseas qualifying pool of the 2013 It's Daejeon International Bowling Tournament behind pole sitter, Shayna Ng to give Singapore a one-two finish.
Tan, who was ninth overnight with 1758, improved her lowest 3-game series of 515 with a splendid 690 at the 11.00am squad today for a new 9-game tally of 1933 to trail her team-mate, Shayna Ng.
Ng took over the lead last night on a total of 2029 with 708, 693 and 628 3-games series. Malaysia's Zatil Iman also moved up one spot from fourth to third with 1875 followed by Chinese Taipei's Chien Hsiu Lan and Dayang Khairuniza of Malaysia rounding out the top 5.
Three Taiwanese, Huang Chiung Yao, Pan Yu Fen and Wang Ya Ting took up the next three positions ahead of a third Malaysian, Hee Kar Yen in ninth and Tsai Hsin Yi making up the top 10 overseas qualifiers.
Seoul Metropolitan City's Ka Yun Mi, who shared the lead of the local pool with team-mate, Kim Ga Ram improved by 11 pins to firm up her pole position with 2116 ahead of Kim.
4th AIMAG silver and two bronze medalist, Son Yun Hee of Korea national team finished third with 2094. 2012 Singapore Open champion, Jung Da Wun headed the mixed pool with 2011 and the current cut 18th positions are shared by Kim Su In and Lee Su Jeong on 1985.
Meanwhile, Ng Tiac Pin, who was 18th in the Men's Open overseas pool, also improved his total from 1765 to 2018 to take up sixth position and confirmed his place in the finals.
Ng Chiew Pang has dropped out of the overseas pool despite improving his total from 1802 to 1845. But the Singaporean does have a low 3-game series of 590 which he can better it to secure a place in the finals.
2013 PBA-WBT Kuwait Open champion and PBA Player of the Year, Sean Rash of USA scorched the lanes at the Worldcup Bowling Center with 761, 738 and 664 to take over the lead of the overseas pool with 2163.
Fellow-pro and current WBT ranking leader, Mika Koivuniemi settled for second with 2125 followed by the surprise Akaash Ashok of India in third with 2074.
No changes atop the local pool with ex-national and 2011 Thailand Open champion, Lee Ik Kyu of Incheon Transit team remaining in the lead with 2223 ahead of Kim Young Pyo and Park Kyung Shin of KPBA in second and third with 2199 and 2168 respectively.
Qualifying will end late this evening and official practice sessions will be held tomorrow from 11.00am for the benifit of local players who have qualified last week and not having a chance to bowl this past three days of qualifying reserved for the overseas competitors.
An official opening ceremony followed by a welcome reception will be held at Hotel Riviera. Senior Masters finals will be contested on July 11 followed by the first round of 8-games finals for the men.
Finals for women and a second round of 8 games for the men will be contested on July 12. The top 3 women and top 4 men will advance to the TV Shootout finals scheduled for July 13.
Detailed scores: Women's Open Qualifying | Men's Open Qualifying | Photo Album.
Photos by Terence Yaw in Daejeon, Korea.