Singapore sets sight for first gold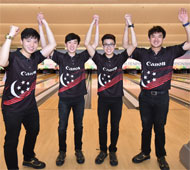 29th March, Macau: Javier Tan, Brandan Tan, Joel Tan and Muhammad Jaris Goh put in a scintilating performance in the Team of 4 second block to win Singapore's first gold medal at the 18th Asian Youth Tenpin Bowling Championships.
Second to Malaysia in the first block yesterday and trailing by 52 pins, the Singapore quartet rolled 884 in their fourth game to move into the lead and 15 pins ahead of Christopher Tiong, Muhd Syafiq Sajeli, Qalif Adnor Adam and Muhammad Rafiq Ismail.
Singapore added a sizzling 900 in the fifth game to stretch their lead to 110 pins as Korea's Choi Hyung Jin, Hong Jun Yeong, Seo Hyo Dong and Kim Hee Jin also returned a superb 901 to take up second.
Malaysia slipped down to third after a lack-luster 817 in their fifth game. The leader kept their momentum into the sixth and final game with 890 to secure the gold medal with 5289.
"We lost our focus a little bit in our second game yesterday and we paid the price for finishing second," said team captain, Javier Tan. "Since we were only trailing the Malaysians by 52 pins, we felt we have a good chance of winning our first gold medal.
"Today, we were completely in sync and all of us bowled well. We were urging each other on and we tackled one frame at a time. Winning the Team gold is the most important event for us and we'are glad we delivered.
"It is only fitting that we dedicate this gold to our founding father, the late Mr Lee Kuan Yew as a farewell gift on his funeral day!"
Whilst Singapore was well on their way to the victory lane, a keen tussle for the silver medal had developed. The Koreans, who had a 56 pin lead over Malaysia going into the final game, ended their second block with 875 for a total of 5164.
With the final frame left to play, Malaysia still had a chance to regain second spot and snatch the silver from the Korean quartet if they can end with 932 or more but needed Muhd Syafiq, Qalif Adnor and the anchorman, Muhammad Rafiq to strike out.
Muhd Syafiq striking in the tenth and evelnth frames and finishing with 9 pin, meant Qalif and Muhammad Rafiq must strike home to win the silver by 1 pin.
Qalif got two strikes in the tenth and eleventh but left 2 pins standing ending all hopes. The anchorman struck home to finish with 930 and lost to the Koreans by 1 pin on a total of 5163.
Although the Malaysians threw away their golden chance to win the team, Muhammad Rafiq won the All Events gold medal with 4443 after posting the highest 6-games series of 1382 in his last event.
Enzo Hernandez of Philippines, who was fourth after the first block yesterday on 595, posted 741 in his second block and 1336 in the team event to clinch silver with 4165.
Javier Tan of Singapore settled for the bronze medal with 4142 after a 1275 series in the team event. His compatriot, Muhammad Jaris Goh missed the podium with 4055 taking fourth in the standings.
The cut in 16th position went to Hayato Hijikata of Japan with 3789 averaging 210.61. Hong Kong's Ivan Tse missed the cut for the Masters finals by 17 pins finishing 17th with 3770.
Three players each from Singapore and Korea advanced to the Masters finals joined by two each from Malaysia, Philippines, Australia and Japan. One Indonesian and one Saudi made up the top 16.
Detailed scores: Boy's Team Block 2 | Boy's All Events | Photo Album.
Photos by Terence Yaw in Macau.