Singapore off to a superb start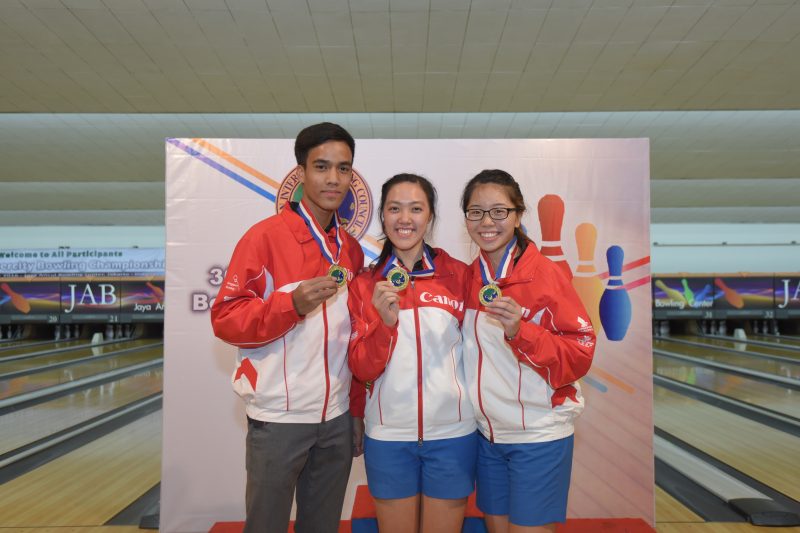 27th October, Jakarta: Singapore got off to a superb start at the 30th Asian Intercity Bowling Championhships after Amanda Lee and Joy Yap won the Women's Singles gold and silver medals while Ahmad Safwan added a second silver in the men's division.
Lee got off the six-games Singles event well with 216 to lead Shah Alam's Zarina Halim of Malaysia by three pins and Wuhan's Peng Rui of China a further one pin away in third. Lee lost the lead briefly to Lara Posadas of Parananque City after the second game as Vanessa Wong of Macau moved into second.
Wong kept a good momentum with 200 and 226 in the third and fourth games to build up a lead of 31 pins as Zarina bounced back to regain second. Yap trailed in third and Peng in fourth.
A big game from Lee shot the Singaporean into the lead pushing down Wong into second, Posadas in third, Zarina in fourth, Peng in fifth and Yap in sixth.
Lee ended the event with 212 to seal the gold medal with 1259. Yap stormed home with a huge game of 258 to snatch the silver medal with 1249, to give Singapore a one-two finish. Posadas settled for the bronze medal with 1223.
Amanda Lee and Joy Yap winning the gold and silver medals
Wong managed only 184 to missed the podium with 1218 in fourth position while Zarina rounded out the top five with 1202. Singapore's other pair of Tay Hui Wen and Iliya Syamin finished 12th and 13th positions with 1159 and 1158 respectively.
In the men's division, Mike Chan of Hong Kong set the early pace with 255 in his openning game to lead Daegu's Ham Jeong Woo by two pins and Cheung followed in third with 248 as several other Hong Kong bowlers also registered big games.
Chueng added another superb game of 230 to take over the lead with his compatriot, Chan trailing by 19 pins. The 20-year-old Hong Kong national bowler kept a strong pace to reel in 225, 221, 224 and 246 to end with 1394 and secured the gold.
Chan, who trailed Chueng for another game, kept close but could not maintain the pace needed to win a medal and eventually finished fourth, missing the podium by nine pins. Singapore's Ahmad Safwan stormed home with 226 and 235 including a huge game of 279 in the fourth to clinch the silver medal with 1364.
A second Daegu bowler, Shin Soon Chul also ended strongly to snatch the bronze medal with 1329. Chan and a second Singaporean, Basil Ng completed the top five with 1316.
Ahmad Safwan adding a second silver medal
Singapore's Marcus Kiew finished 11th with 1255 and Soh Yong Ping 16th with 1209 in a field of 55 players. The players will resume with the Doubles event tomorrow with the Men and Senior Men starting at 9.30 am local time and the Women and Senior Women in the afternoon at 2.00 pm.
Detailed scores: Women's Singles | Men's Singles | Photo Album.
Photos by Terence Yaw in Jakarta.