Singapore national bowlers snatches pole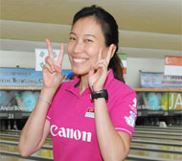 21st September, Jakarta: Asian Indoor Games bronze medalist, Geraldine Ng of Singapore snatched pole in the Women's Open Stage 1 finals of the 11th Indonesia International Open to advance into the next stage joined by three of her team-mates.
Asian Indoor Games Doubles gold, Daphne Tan set a blistering pace with 258 and 278 to open up a lead of 70 pins over her nearest opponent, Siti Safiyah of Malaysia. Tan held the lead for another game before Indonesia's Ivana Hie took over the running.
Asian Youth Team bronze medalist, Alisha Nabila posted a big game of 289 in the fourth to leadfrog Ivana into the lead as Tan held second spot. The Indonesian youngster followed it up with 237, 248 and 227 to stretch her lead to 96 pins.
Geraldine Ng, who was trailing Alisha by 90 pins atfer the seventh game, slipped away slightly as Siti Safiyah took over second spot. Whilst Alisha was running out of steam, Ng and Siti Safiyah continued their good pace.
Ng ended the stage the strongest with 246 to snatch pole position with 2282. Siti Safiyah settled for second with 2252, 30 pins adrift. A third Malaysian, Siti Shazwani took third spot with 2230.
Puteri Astari was Indonesia's best performer in fourth with 2220 followed Ivana fifth with 2219. Pace-setter, Alisha rolled a poor game of 161 to drop down to sixth. Three of Ng's team-mates, Tay Hui Fen, Daphne Tan and Amanda Ng all make the cut for Stage 2 in eight to tenth positions.
In the Men's Open division, three-time champion Alex Liew comfortably topped the stage with 2369, 85 pins ahead of Syimir Abdul Razak in second with 2284 to give Malaysia a one-two finish.
Kuwait's Yaqoub Al Shatti, who was second most of the way, settled for third position with 2276 while Korean pro, Jeong Taw Hwa and Thailand's Surasak Manuwong rounded out the top 5 with 2275 and 2256 respectively.
Two Singapore men, Suresh Elongovan and Muhd Danial Zheng Yi failed to get into their impressive qualifying pace to end their campaign in 22nd and 29th positions. Asian Indoor Games two gold medalist, Michael Mak of Hong Kong was the cut at 18th position.
The top 18 men together with the 3 local seeded qualifiers and the top 3 overseas seeded qualifiers will bowl another 10 games scratch in Stage 2 finals tomorrow. The top 15 women with the top 3 local and top 3 overseas seeded qualifiers will also contest the Stage 2 finals tomorrow.
The top 6 men and top 6 women at the end of Stage 2 will advance to the stepladder shootout finals to determine the champion.
Detailed scores: Women's Stage 1 FInals | Men's Stage 1 Finals | Photo Album.
Photos by Terence Yaw in Jakarta.