Singapore, Malaysia tops first block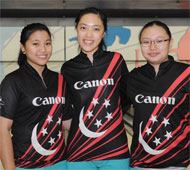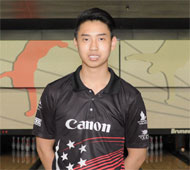 30th July, Hong Kong: Kuek Qi En of Singapore A and 2015 Asian Youth champion, Nor Lyana Natasia of Malaysia topped the Boy's and Girl's Block 1 Masters finals of the NTGCC 16th Asian School Tenpin Bowling Championships on Thursday.
The 18-year-old Quek had a slow start managing only 197 as Team bronze medalist, Lim Seong Yul of Korea B Team took the early lead winning his opening match with a stunning 269. The Korean followed it up with another win in the second match with 267 to widen his gap to 62 pins ahead of Hong Kong A Team's Alex Yu.
Lim continued to lead the field despite not winning his third match but came back with a strong game to win his fourth match with 258 and stretching his lead to 92 pins as Aidah Poh of Singapore B moved up into second.
Two back-to-back 250-games from Quek Qi En saw the Singaporean moving up to take over second position and reducing the gap to 48 pins while Lim lost his fifth match. Quek then surged into the lead by winning his sixth match with sizzling 279.
Lim dropped to second position after losing yet another match. Alex Yu stayed with the leading duo to take up third spot winning his sixth match with 261. The leader went on to end the block with two more wins for a total of 1900.
Yu snatched second position by one pin with 1874 from seven wins while pace-setter Lim settled for third position with 1873 on only four wins. The third Singaporean finalist, Jarred Lim managed only three wins for 15th position.
Meanwhile, Asian Youth Singles gold medalist and two silver medalists of this championship, Nora Lyana Natasia of Malaysia, topped the Girl's Masters first block with 1850 from seven wins out of the eight matches contested.
The 17-year-old Malaysian, who had a slow start, picked up her pace with six straight wins to finish well ahead of her nearest opponent. Wakana Mizutani of Japan finished second with 1785, also from seven wins.
Two gold medalists, Kim Dong Yo of Korea A kept pace with the leaders throughout the block to win five matches for a total of 1778 for third position, seven pins from the Japanese.
Doubles and Team silver medalist, Faten Najihah of Malaysia took fourth position with 1757 while triple gold medalist, Kim Jin Ju of Korea B rounded out the top five with 1712 winning just five matches.
Three Singapore girl finalists, Amanda Lee, CHarmaine Chang and Jermaine Seah struggled to find their form ending the first block in 12th, 14th and 15th positions respectively and ending hope of any medals from the Masters.
The finalists will resume with their second block of seven matches on July 31 followed by the position round match to determine the top three advancing to the stepladder finals.
Positioned second and third will meet in the first match over one game and the winner will face the top seed over two-games total pinfalls to decide the Masters champion.
Regardless of the outcome of the Girl's Masters result, the Korean girls have sealed the overall champion title. Japan and Korea A has two gold medals each and the Boy's overall champion can still be decided from the Masters finals.
But with five gold and 2 bronze medals, Korea has firmed up the Overall Champion crown well before the final results of the Masters.
Detailed scores: Boy's Block 1 Masters | Girl's Block 1 Masters | Photo Album.
Photos by Terence Yaw in Hong Kong.