Singapore girl wins Women's crown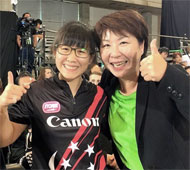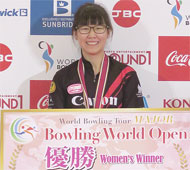 12th July, Tokyo: Second-seed, Joey Yeo stunned top-seed, Birgit Poppler of Germnay, 207-204 to capture the inaugural Bowling World Open women's crown and the Singaporean's biggest individual career triumph.
Yeo started off with a strike and a spare in her first two frames as Poppler spared both her frames. The 18-year-old Yeo then stumbled to a big 6-pin split which she could not convert and her opponent did not take advantage of.
The Singaporean recovered with five strikes-in-a-row to move ahead of the German but again suffered another 7-pin split in the ninth frame. Fortunately, Poppler could not double in the tenth frame as Yeo struck to edge Poppler by three pins for the victory.
The champion had earlier breezed past third-seed, Karen Marcano of Venezuela, 234-181 in the semi-final to set up the final with the Poppler. The German ousted fourth-seed, Kelly Kulick of USA, 258-227 in the other semi to advance to the final.
The victory was Yeo's biggest individual triumph of her career and she picked up 10 million yen (approx. S$110,000). Poppler earned 5 million yen while Marcano and Kulick took home 1.5 million year each.
Yeo made the TV finals after she amassed a total of 1820 (five games from qualifying round and three games from the quarter-finals) in second, 14 pins behind Poppler with 1834. Marcano and Kulick advanced in third and fourth positions with 1795 and 1794.
Meanwhile, another second-seed, Osku Palermaa of Finland defeated fourth-seed, Isao Yamamoto of Japan, 248-224 to win his fifth career PBA title and the top prize of 10 million yen.
Palermaa edged third-seed, Bill O'Neill of USA, 266-256 in the semi-final to advance to the final while Yamamoto eliminated top-seed, Dominic Barrett of England, 256-224 in the other semi to meet the Finn.
The champion made the TV finals finishing second in the quarter-finals with 1851, 118 pins behind Barrett in the lead. O'Neill and Yamamoto advanced in third and fourth with 1849 and 1836.
Detailed scores: Women's Quater-finals | Men's Quater-finals | Photo Album.
Photos by SingaporeBowling.