Singapore girl takes convincing lead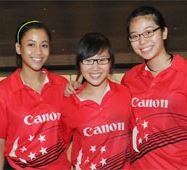 10th June, Hong Kong: 2012 Asian Schools Doubles gold medalist, Kimberly Ooi put in a sizzling display to comfortably lead the Women's Open Masters Stage 1 finals of the 39th Hong Kong International Open at SCAA Bowling Centre on Monday.
Although Ooi had an eractic start in her first three games, the 17-year-old settled down after the fourth game to moved into the lead, 25 pins ahead of defending champion, Esther Cheah of Malaysia in second.

Ooi display consistency throughout the 10-game finals reeling in 193, 222, 176, 234, 205, 202, 223, 203, 202 and 212 to finish the stage with 2072. The sole Malaysian finished second, 128 pins adrift with 1944.

"I found the going tough in the begining and when I shot a good game in the second, I thought I had found my line," said Kimberly Ooi. "But in the third game, I lost my rythmn a bit.

"Luckily, I made some adjustments and from then on I was very comfortable. I hope I can keep up my momentum for tomorrow and do my best to make the stepladder finals."

Yap Seok Kim, who traded second position with Cheah in the first half of the stage, settled for third spot with 1935 followed by her team-mate, Cecilia Yap in fourth position with 1889.

SIngapore's Ilma Nur Jannah and Joy Yap made the Stage 2 cut in seventh and 14th positions while Kristin Quah missed the cut by 9 pins to finish 17th position.

In the Mens Open division, three-time Hong Kong Open champion, Wu Siu Hong and Michael Tsang ended the stage with a one-two finish. Wu amassed 2215 to top the field while Tsang, who rolled the tournament's second 300, totaled 2145.

Mohammed Al Saud of Saudi Arabia claimed third spot with 2131 followed by early leader, Hareb Al Mansoori of UAE in fourth position with 2094. A third Hong Kong national, Michael Mak rounded out the top 5 with 2087.

Singapore's Azlexander Tan edged Hong Kong's Joshua Chow by 1 pin to make the cut in 18th position with 1989 but Muhd Danial Zheng Yi ended in a dismal 23rd position.

The top 18 men will be joined by the top 3 local and top 3 overseas seeded qualifiers and the top 15 women will also be joined by the top 3 local and top 3 overseas qualifiers for Stage 2 finals tomorrow.

The top 6 men and top 6 women finishers will advance to the stepladder shootout finals to determine this year's men and women champion.

Detailed scores: Women's Open Stage 1 Finals | Men's Open Stage 1 Finals | Photo Album.

Photos by Terence Yaw in Hong Kong.