Singapore dominates opening squad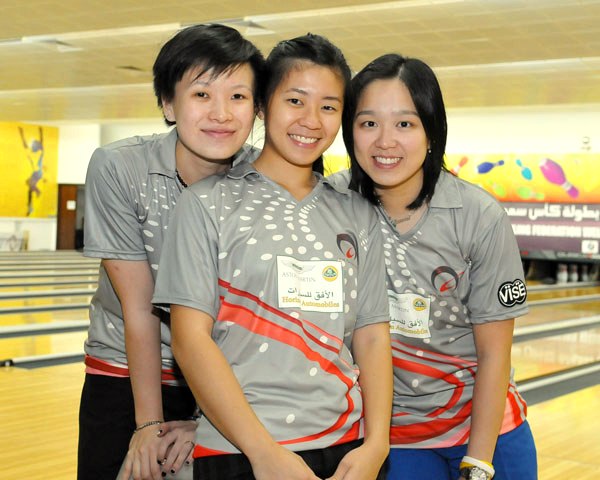 23rd February, Doha: Singapore women dominated the opening squad of the PBA-WBT #7 H.H. Emir Cup 2014 underway at Qatar International Bowling on Sunday by taking the top 5 positions in their first block qualifying round.
Bernice Lim got off to a cracking start with an opening game of 279 to lead team-mate, Daphne Tan by 12 pins and Cherie Tan, a further 8 pins away in third. The nearest non-Singaporean was 2013 Indonesia Open first runner-up, Yaqoub Al Shatti of Kuwait in fourth.
Daphne took over the running with 238 following her 267 in the opening game as Lim slipped down to second and Cherie third. Lim bounced back with 259 to regain the lead, 17 pins ahead of a fourth Singaporean, Jazreel Tan moving up to second after she rolled a stunning 279 with Daphne hanging on to third spot.
By the fourth game, Lim extended her margin at the top to 25 pins as Jazreel managed only 198 to drop down to third behind Daphne, who regained second spot.
But Jazreel fired her second 279 in the fifth and final game to leapfrog her two team-mates to win the daily high series award of US$200 and led the first block with 1262. Lim settled for secod spot with 1245, 17 pins adrift.
Daphne took third position with 1212 as a fifth Singaporean, New Hui Fen snatching fourth spot with 1160. Cherie completed the top 5 positions dominated by the Singapore women with 1159.
Mohammed Al Masri of Jordan was the best men taking up sixth position with 1138 followed by 2010 EMir Cup champion, Mubarak Al Muraikhi of Qatar in seventh position with 1130.
Singapore's best male performer was 2013 Milo All Stars champion, Keith Saw finishing outside the top 10 in 11th position with 1095 ahead of Joey Yeo in 12th position with 1091.
Geraldine Ng and Muhammad Jaris Goh finished 23rd an 24th position with 1027 and 1023 while newly-awarded Singapore Bowler of the Year and 2013 Malaysian Open champion, Shayna Ng in 29th position.
52 bowlers in Squad A will resume with their second block of 5 games tomorrow at 4.00 pm local time. Bowlers registered for Squad B will commence their first block of 5 games on February 25 and second block on February 26.
The top 28 in the qualifying standings plus top 2 Qatari youths and top 2 Qatari qualifiers outside the top 28 and four from desperado squad will make the cut. Bowlers position 7 to 36 will contest Step 1 finals over 5 games on February 27.
The top 10 finishers from Step 1 finals plus the top 6 seeded qualifiers will contest Step 2 finals over another 5 games from scratch on February 28. The top 4 will advance to the stepladder shootout finals.
Detailed scores: Squad A Block 1 | Photo Album.
Photos by Terence Yaw in Doha, Qatar.