Singapore clinches first gold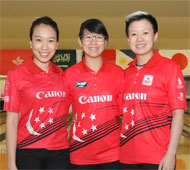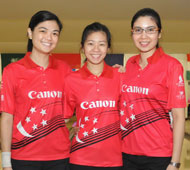 22nd January, Bangkok: Geraldine Ng, Joey Yeo and New Hui Fen survived an onslaught from the Koreans in the second block of the Women's Trios to clinch Singapore first gold medal at the 23rd Asian Tenpin Bowling Championships.
The overnight leader continued where they left off in the first block yesterday with an identical opening score of 677 in the fourth game to stretch their lead from 27 to 71 pins after Jung Da Wun, Jeong Eun Hee and Son Yun Hee managed only 633.
But a 635 in the fifth game from the Singaporeans saw their margin reduced to just 24 pins when their nearest rival added 682 in their fifth game.
Indonesia's second trio, who was third overnight, started poorly with 557 and failed to recover with 589 in the fifth to slip behind the second Korean trio.
Doubles gold medalist of Syaidatul Afifah and Sin Li Jane together with Hee Kar Yen of Malaysia moved up to third after the fifth game putting themselves in contention for a medal.
Kim Jin Sun, Lee Young Seung and Jun Gwi Ae moved into fourth spot after two superb games of 622 and 662. With the two Korean trios and a Malaysian trio right on their heels, pressure on the leader was beginning to mount.
Drawn just next to each other in the sixth and final game, the Koreans started a strike-fest and was rapidly closing the gap. Midway through the match, the first Korean trio had already overtaken Singapore.
The trio ended the block with 707 forcing Singapore to roll 683 or better to remain in the lead and take victory. It all came down to the last frame which needed all the three Singapore players to strike-out.
Under tremendous pressure, the trio displayed sheer determination to strike home to the delight of their team-mates and coaches to clinch the Singapore's first gold medal with a last game of 687 and a total of 3899.
Korea was disappointed to take home the silver medal with 3895, just 4 pins adrift while the second Korean trio earned the bronze medal with 3776. Indonesia recovered in their last game with 690 but missed the podium with 3674, 102 pins away.
Meanwhile, Doubles gold and Singles bronze medalist, Sin Li Jane remained in the lead of the Women's All Events with 4074, 56 pins ahead of Trios silver medalist, Jung Da Wun in second with 4018. Singles silver medalist, Misaki Mukotani of Japan slipped to third with 3951.
The men will contest their Trios second block at 1.00pm and 5.00pm. Competition will shift to the 5-Player Team event over two blocks of 3 games on January 23 and 24.

Detailed scores: Women's Trios Block 2 | Women's All Events | Photo Album.

Photos by Terence Yaw in Bangkok.