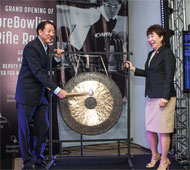 16th January, Singapore: It was a night to remember as the 38-lane bowling centre, the biggest in Singapore, was officially launched in great style with Deputy Prime Minister Mr Teo Chee Hean and Senior Minister of State for Culture, Community and Youth, Ms Sim Ann in attendance.
Guests would have been hard pressed to remember that it was a bowling centre you were walking into. There was a Harley-Davidson bike in front of a Canon photo booth, inviting people to perch on it to take an instant print for memory´s sake. Waiters were milling around with cocktails as they replenished your drinks from a full bar. A full sized Kabuki covered the entire 38-lanes, leaving everyone wondering what other surprises were in store aside from the DJ spinning from his console in the middle of the venue.
As Guest-of-Honour DPM Mr Teo Chee Hean and Special Guest Ms Sim Ann took their seats, a video lit up all the scoreboard screens and triggered sweet recollections with its walk down the bowling in Singapore memory lane. Past and present champion keglers were shown in all their glory as we remembered who SingaporeBowling used to be, and how far we have come to be able to realise the dream of having a place to call "Home". Pride and fervour ran high, and, as the video concluded, the National keglers came together to shout "Majulah Singapura".
SingaporeBowling President Mrs Jessie Phua then took to the stage and gave a heartfelt speech on how the centre was "not just a dream come true, but a dream she didn´t even dare to have". She also made clear that SingaporeBowling @ Rifle Range was more than just a bowling centre; it was a place that is able to chameleon-ize itself to any requirement one may want of an event venue.
This venue versatility was demonstrated to full effect after DPM Teo Chee Hean sounded the gong to mark the official opening and the Kabuki curtain dropped to reveal a raised platform spanning across ten lanes and local band 53a brought the crowd to its feet with a cover of Walk the Moon´s "Shut up and Dance".
DPM Teo Chee Hean, speaking to media about the new centre, said: "The (national bowlers) now have a dedicated place to train, and they are able to put in all the training systems that the coaches can use for analytics."
On SBF´s goal of financial independence, he said: "It may not be done for all sports, but where it is possible, I think it´s most commendable."
And on that note, we invite all of you to SingaporeBowling @ Rifle Range to take in a game or two and try to have as much fun as we had that night.
Photos by SingaporeBowling.