Singapore bowlers receive awards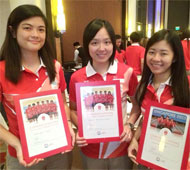 26th August, Singapore: Singapore bowlers, who won four gold medals at the 28th SEA Games held in Singapore, received incentives from the Singapore National Olympic Cpuncil for their outstanding achievements.
The Singapore National Olympic Council in the 1990s devised an incentive scheme to reward medal-winning athletes – The Multi-Million Dollar Award Programme provides a cash payout to athletes who win medals at the Olympic, Asian, Commonwealth and South East Asian (SEA) Games.
Daphne Tan received an award for winning the Women's Singles gold medal on the opening day of the championships. The Saw siblings, Howard and Keith received an award for capturing the Men's Doubles gold medal on the second day.
Daphne Tan, Jazreel Tan and Bernice Lim bagged the award for their fabulous victory in the Women's Trios event while Jazreel Tan received the award for winning the prestigious Women's Masters gold medal.
Singapore women topped the medal standings with three gold and four silver medals. Singapore men finished second with one gold, one silver and one bronze medal. The national took second spot in the overall medal tally with a haul of 5-1-4 medals.
Photos by Call The Shots Photography courtesy of SNOC.