Singapore bowlers head to Bowling World Open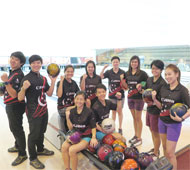 9th July, Tokyo: National bowlres comprising of two men and eight women headed to Tokyo for the world's richest bowling event in 2015, the Bowling World Open, which has begun this morning in central Tokyo.
As part of the World Bowling Tour, the event will host the best men and women bowlers from 52 countries around the globe. Here they will join Japan's greatest athletes to compete for a total prize pool of Japanese Yen 48,000,000 (Approx. US$390,000) and the chance to earn double ranking points in the World Bowling Tour.
Showcasing the best that bowling has to offer, the competition will be broadcast by TV Tokyo and its six network stations. With the great interest and popularity of the sport of Bowling, as well as the rising success of home grown bowling heroes, the event is expected to draw a large crowd of Japanese spectators.
Japan's best chances to take out the big prize are Daisuke Yoshida and Shusaku Asato who won the silver medal in last year's World Bowling Men's Championship Doubles event. Yoshida and Asato will compete alongside big name superstars Jason Belmonte from Australia and the USA's Chris Barnes.
Singapore's team include two men – 2015 Asian Youth Doubles gold and team medalists, Muhd Jaris Goh and Javier Tan while the eight women are made up of Bernice Lim, Daphne Tan, Jazreel Tan, Shayna Ng, New Hui Fen, Jasmine Yeong-Nathan, Cherie Tan and Geraldine Ng.
In addition to these top class events, the competition will also showcase a unique exhibition series with mixed-gender teams and a section for para-bowling. Such additional classes highlight the sports accessibility.
This year's Bowling World Open event will take place in the State of the art Minamisuma Bowling Arena in the Shinagawa Prince Hotel and the Makuhari Messe that will have a temporary lane construction built-in to the extraordinary convention centre to house the main portion of the tournament.
The Bowling World Open runs until July 12th. For more information on the Bowling World Open go to www.jbc-bowling.or.jp/worldopen/?lang=en.
Detailed scores: Women's Qualifying | Men's Qualifying | Photo Album.
Photos by SingaporeBowling.