Singapore bowlers first and third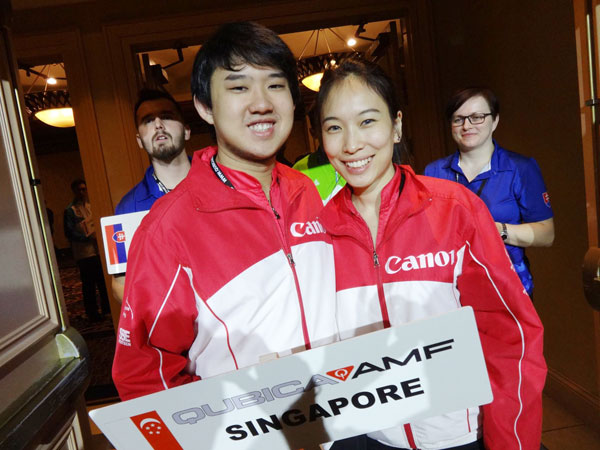 15th November, Las Vegas: Four-time National Championships runner-up, Muhammad Jaris Goh topped the opening round of the 46th QubicaAMF Bowling World Cup Men's qualifying rounds at Sam's Town Bowling Center as Geradine Ng finished third in the women's division.
Muhammad Jaris Goh of Singapore, a 20-year-old student, took an early lead in the opening 8-games round of the Men's division with a score of 1855 averaging 231.88. Close behind, is Francois Louw of South Africa on 1846. Francois came in 9th when the event held in Toulon, France, in 2010, missing out on the top eight in a one game roll off.
Ildemaro Ruiz Jr. of Venezuela finished third place on 1798. Ildemaro has also played in the World Cup before, bowling a 300 game in St. Petersburg in 2007.
The high game so far this year is 289 with three players on that mark: Francois, Ildemaro and Kamron Doyle of the USA.
The men will have two more sets of eight games before the top 24 will go forward to the next round. At the moment, an average of 202 is needed to make the top 24.
Meanwhile, two-time champion Aumi Guerra of the Dominican Republic led by just one pin from defending champion Clara Guerrero of Colombia on 1738 and 1737 respectively. Geraldine Ng Su Yi of Singapore finished third on 1714.
The high game so far is 288 from Stephanie Martins of Brazil. Two other returning champions, Shannon Pluhowsky of the USA and Kerrie Ryan-Ciach of Canada are also in the top 24 at this stage.
The players will now come back tomorrow for another eight games before their final set on Tuesday. The cut will then be for the top 24 and at the moment the score needed to make it into the next round is an average of 193.5.
Detailed scores: Men's Qualifying Rounds | Women's Qualifying Rounds | Photo Album.
Photos courtesy of Hero Noda, QubicaAMF.