Singapore adds silver and bronze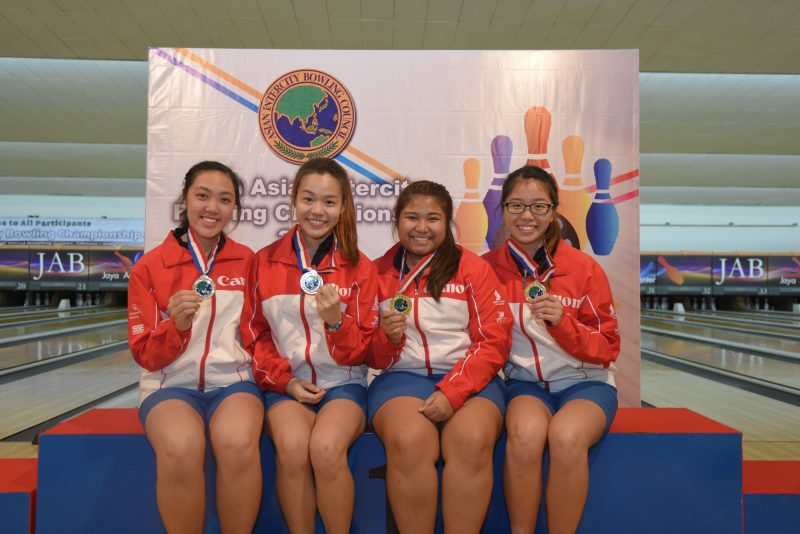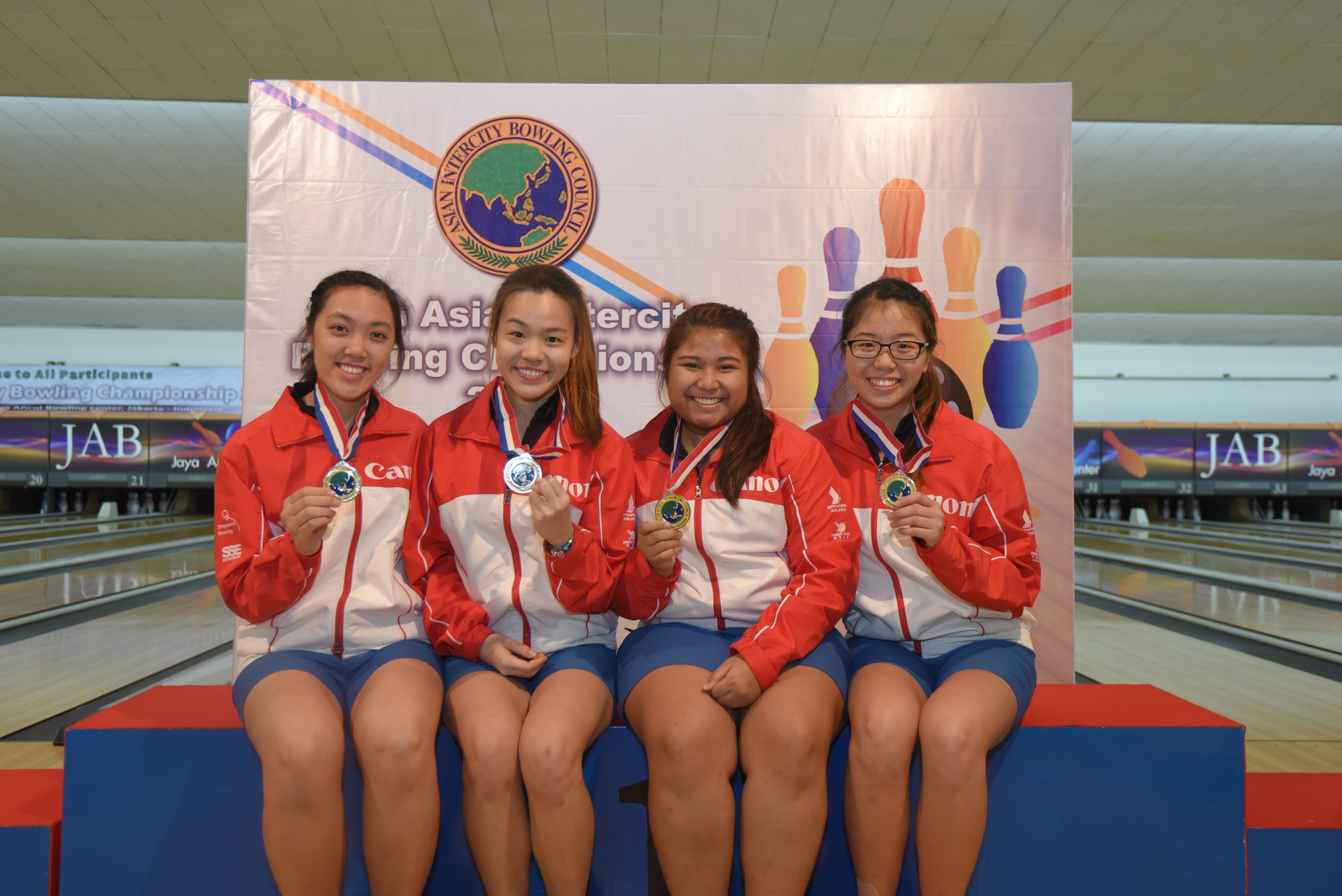 29th October, Jakarta: Singles gold Amanda Lee, Doubles gold, Joy Yap, Tay Hui Wen and Iliya Syamin added a silver medal after finishing second in the Team of Four event of the 30th Asian Intercity Bowling Championships while Singapore men took the bronze.
The Singapore quartet, who trailed leader, Paranaque in second after the first block of three games contested earlier in the morning, had a poor start in the second block allowing Yancheng to move ahead into second. Singapore bounced back with 827 in the fifth game but still remained in third.
Doubles silver medallists, Krizziah Tabora-Lara Posadas and bronze medallists, Anne Marie Kiac-Ma Lourdes Cruz Arles of Paranaque continued where they left off with a steady pace to remain in the lead, 120 pins ahead of Yancheng.
Although the Filipina quartet managed only 769, they managed to seal Paranaque's first gold medal at the championships with 4919. Singapore ended with 832 to clinch the silver medal with 4844.
Yancheng's Li Qing, Kong Min, Yuan Yue and Peng Rui finished third with 4754 to take home the bronze medal while Shah Alam missed the podium by a huge difference of 180 pins.
Singapore quartet with their silver medals
Posadas's 1400 series in the team event won her the All Events gold medal with a total of 3896 over 18 games. Yap, who was leading the standings before the team event, managed only 1214 in the Team event to add yet another silver medal with 3783.
Lee took home the bronze medal with 3742. Yancheng's Peng Rui rolled the second highest series in the team event with 1289, missed the podium by 53 pins to finish fourth. Li Qing qualified for the Masters event in 16th position with 3387. All four Singapore women qualified for the Masters finals.
Meanwhile, Doubles gold medallists of Park Min Su-Shin Soon Chul teamed up with Kim Ju Young and Ham Jeong Woo to win a second gold medal for Daegu with 5224 in the men's division.
Singapore's Marcus Kiew, Soh Yong Ping, Basil Ng and Ahmad Safwan had their silver medal snatched away from them in the sixth and final game by host city, Jakarta.
Singapore had a 48 pin lead over Jakarta going into the final game but ended with 809 to settle for the bronze medal with 5038. Yeri Ramadona, Hernandez brothers of Patrick and Paolo and Rudy Goenawan rolled a stunning 925 to snatch the silver medal with 5106.
Jimmt Cheung of Hong Kong, who only had a 16-pin lead after 12 games, posted a good series of 1306 in the team event to pick up his second gold medal in the championship after topping the All Events standings with 4023. Shin took the silver medal with 3978, 45 pins adrift.
Singapore men finishing third for the bronze
Kim Ju Young of Daegu shot the highest six-games series of 1411 in the team event to clinch the bronze medal with 3932, nine pins ahead of compatriot, Park Min Su in fourth with 3923.
Doubles bronze medallist, Rodolfo Tan Jr of Paranaque squeezed into the Masters finals in 16th position with 3644 while Team silver medallist, Patrick Hernandez missed by 11 pins. Three Singapore men qualified for the Masters finals.
With just one final event in the Masters remaining, Singapore women are leading the medal tally with 21 points from two gold, three silver and one bronze medal. Paranaque is second with two gold, one silver and two bronze medals.
Daegu is leading the men's tally with two gold, one silver and two bronze medals on 18 points. Hong Kong trailed in second with two gold and a silver medal.
Singapore leads the overall medal tally with 26 points with Paranaque in second on 19 points and Daegu third on 18 points. Five points are awarded for a gold, three for a silver and two for a bronze while fourth position gets one point.
The top 16 men, top 16 women, top 8 senior men and top 8 senior women in the All Events standings qualified for the head-to-head Masters eilimation rounds which will be contested tomorrow.
Detailed scores: Women's Team of 4 | Men's Team of 4 | Women's All Events | Men's All Events | Photo Album.
Photos by Terence Yaw in Jakarta.