Second silver for Singapore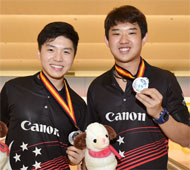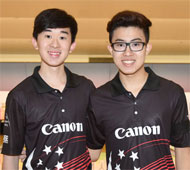 26th March, Macau: Singles bronze medalist, Javier Tan and Muhammad Jaris Goh fought their hearts out to win a second silver medal for Singapore at the 18th Asian Youth Tenpin Bowling Championships as Squad A leader of Muhammad Rafiq Ismail and Qalif Adnor Adam picked up Malaysia's third gold.
Tan and Muhammad Jaris got off to a cracking start with 464 in the opening game to lead the second Saudi pair by 43 pins. The duo followed it up with consistent lines of 426, 415 and 485 and after the fourth game, they were 1024 pins behind Squad A leader, Malaysia.
The second Singapore pair came close to snatching the victory midway through the final game, but while Javier was unable to roll more strikes, Muhammad Jaris missed a crucial frame in the eight which settled the tie albeit ending with 492 and settling for the silver medal with 2763, 51 pins behind the champion.
"We didn't know by how much we were trailing the Malaysian Squad A leader," said Tan, who shot 1434 in his six games. "We were palying catch up most of the way and we knew we had a chance and needed to stay focus and concentrate on delivering good shots.
"We're still happy to come away with our second silver medal," said Muhammad Jaris. "We're looking forward to the Team event and we're confident we can do well."
Singles gold medalist, Muhammad Rafiq won his second gold medal with his score of 1446 while debutant, Qalif Adnor rolled 1368 for a total of 2814 for the victory.
Singles silver medalist, Enrico Lorenzo Hernandez and Ivan Malig of Philippines picked up the bronze medal with 2690, a further 73 pins away in third.
Australian pair of Elliott Bastiste and Adam Svensson, who was second in the first squad, missed the podium by 128 pins with 2562 while Rafif Santoso and Billy Muhammad Ismal of Indonesia rounded out the top 5 with 2544.
The first pair of Brandan Tan and Joel Tan finished fifth in the first squad and ninth overall with 2506.
The Girl's Doubles will be contested tomorrow before competion will shift to the Team of 4 on March 28 and 29. The top 16 boys and top 16 girls based on their All Events standing (18 games) will qualify for the Masters finals.
Detailed scores: Boy's Doubles Combined | Boy's Doubles Squad B | Photo Album.
Photos by Terence Yaw in Macau.