Second silver for Singapore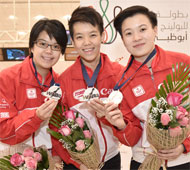 9th December, Abu Dhabi: Singapore settled for their second silver medal fo the Women's World Bowling Championship 2015 after Cherie Tan, Shayna Ng and New Hui Fen lost to Korea 594-695 in the Trios final on Wednesday.
Tan started the final match with an unfortable split but recovered with a strike in the second frame. Shayna got off to a great start with three strikes-in-a-row but Hui Fen missed a single pin in the second after a strike in opening frame.
Meanwhile debutants Son Hye Rin and Kim Jin Sun struck in their first frames, spared their second and struck again in their third. Anchorwomen Baek Sung Ja rolled three strikes to give Korea a slight lead.
Whilst Tan continued to struggle, both her team-mates just could not get enough connecting strikes to cover Tan, who managed only 180. Shayna could have ended with 231 but threw into the gutter on her last throw.
Hui Fen finished with 193 for a team total of 594. Son rolled 237 with Kim adding 203. Baek added two more strikes and another three strikes-in-a-row for a big game of 255 giving the team a total of 695 to win their second gold medal of the championship.
But the most exiting match was in the semi-final against fourth-seed, United States. Son did well to knock down 248 and Kim 199. Shanon Pluhowsky had finished with 196 and Kelly Kulick with 215 and Liz Johnson struck out from frame eighth to end with 215 and a team total of 626.
Baek, who had three splits in her game but needed to strike in her final frame and a spare in the bonus frame to win by a single pin. She kept her nerve and composure to deliver what was needed to the delight of her team-mates to end with 189 and win with 627.
In the other semi-final, England's Danni Hopcroft, Jo Allsebrook and Lisa John had no answer to the prowess of the Singapore trio, going down 567-625 to settle for the bronze medal as Singapore advance to the final.
The champion claimed top-seed with 4116 in the preliminaries contested yesterday. Singapore and England finished second and third with 4080 and 4056 respectively in the second squad.
United States, who had topped the first squad made the cut for the semi-final shootout in fourth with 4039. The second Singapore trio of Daphne Tan, Joey Yeo and Jazreel Tan missed the cut by five pins after finishing fifth with 4034.
Competition will shift to the Doubles event tomorrow with the preliminary over six games divided into two squads. The top four will advance to the semi-final shootout to be contested the same day.
Detailed scores: Trios Semi-final and Final | Trios Combined | Medal Photo ALbum.
Photos by Terence Yaw in Abu Dhabi, UAE.