Promising start for Singaporean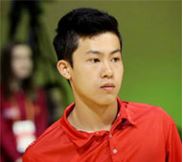 18th November, Krasnoyarsk, Russia: Cherie Tan made a promising start to her 49th QubicaAMF Bwling World Cup after completing the first block of 6 games in fourth position while Joel Tan tied 24th position in the men's division.
Cherie got off the blocks with a superb 245 and followed it up with 232, 267, 234 and 228 but ended the first block with a lowly 183 to settle for fourth position with 1389. 2009 World Cup champion, Caroline Lagrange of Canada topped the block with 1510.
Newcomer, Luminta Farkas Bucin of Romania finished second with 1412 while Squad A leader and last year's third runner-up, Danielle McEwan of USA snatched third spot from Cherie with 1400.
Two-time World Cup champion and last year's runner-up, Aumi Guerra of Dominican Republic rounded out the top 5 with 1374. Apart from the Canadian's 1500 series, two surpassed the 1400-mark and 13 pass the 1300-mark.
After the first block, Helga Di Benedetto of Italy and Nataliya Shcherbinina of Ukraine occupied 23rd and 24th position with 1244 and 1230.
Meanwhile, debutant and Singapore's male representative, Joel Tan ended the first block to tie 24th position with Guy Caminsky of South Africa with 1364. Two-time European Tour champion, Peter Hellstrom of Sweden led with 1543.
William Ching of Venezuela finished second with 1495 while the top Asian men was Philippines' Benshir Layoso, who took third spot with 1479. Vincent Cayez of France and 2013 World Championship silver medalist, Bodo Konieczny of Germany completed the top 5 with 1468.
Only the Swede registered 1500 series and twelve passed the 1400-mark. Twenty-six passed the 1300-mark while there were three perfect games registered bringing the total of perfect games to 54 in the history of the World Cup.
64 women and 74 men from 76 countries are competing in this year's championship, the lowest number since the 1998 World Cup in Kobe, Japan. The women and men will bowl a total of four blocks.
The field will be cut to the top 24 women and top 24 men who will bowl another 8 games to determine the top 8 women and top 8 men for the round-robin matchplay semi-finals. After the matchplay, the top 3 women and top 3 men will advance to the stepladder finals.
Detailed scores: Women's Block 1 | Men's Block 1 | Photo Album.Photos courtesy of Beat Grauwiler, Bowling Digital.