Singapore adds second bronze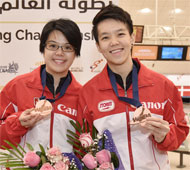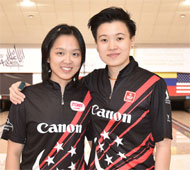 10th December, Abu Dhabi: Cherie Tan and Shayna Ng added a second bronze medal for Singapore after being eliminated by eventual gold medalist, Team USA in the Doubles semi-final match of the Women's World Bowling Championship 2015.
Tan and Ng, who had snatched the fourth and last spot on the semi-finals from the second squad leader, Malaysia by a single pin earlier, found the Americans just too good when they went down, 412-453.
Tan, who won the Singles and Trios silver medals yesterday, shot 228 but Ng managed only 184 while Danielle McEwan and Kelly Kulick of USA posted 205 and 248 to advance to the final match.
Team USA went on to break Korea' domination having won two gold medals in the Singles and Trios event in the final, edging Son Hye Rin and Jeon Eun Hee, 486-461 in one of the closest match.
The Korean pair had topped the second squad with 2784, beat second-seed, Mai Ginge Jensen and Britt Bronsted of Denmark, 444-422 to set up the encounter against the Americans.
Team USA led the first squad with earlier with 2843 ahead of Denmark in second with 2812. They remained unchallenged after Korea finished first in the second squad with 2784 to qualify in third position for the semi-finals.
Singapore, who was behind leader Malaysia by 31 pins and Korea by 2 pins before the sixth and final game, posted 451 to snatch second position in the squad by a single pin on 2775.
The second Singapore pair of New Hui Fen and Jazreel Tan finished fourth in the first squad with 2686 while the first pair of Joey Yeo and Daphne Ng managed only 16th position in the same squad with 2531.
But Team Singapore could still win their first elusive gold medal. Cherie Tan led the All Events standings after 18 games from three events with 4174 and Shayna Ng in second with 4158.
Joey Yeo is in seventh position with 4013 and New Hui Fen in ninth with 4003. Singapore is poised continue their momentum into the 5-player Team event, which will be contested over the next two days.
The top 24 based on the All Events standings will qualify for the Masters finals on December 13.
Detailed scores: Doubles Semi-final and Final | Doubles Combined | Medal Photo ALbum.
Photos by Terence Yaw in Abu Dhabi, UAE.