Promising first block display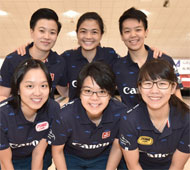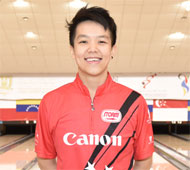 11th December, Abu Dhabi: Two Singles medalist, Cherie Tan spearheaded her team-mates, Jeoy Yeo, Shanya Ng, New Hui Fen and Jazreel Tan to end the first block of the 5-player Team in a promising third position at the Women's World Bowling Championship 2015 on Friday afternoon.
Sweden's Rebecka Larsen, Joline Persson Planfors, Nina Flack, Victoria Johansson and Jenny Wegner led the field of 22 teams with a superb 1109 in their opening game, just nine pins ahead of Colombia in second.
Germany's Laura Beuthner, Martina Schutz, Patricia Luoto, Nadine Geissler and Birgit Poppler added another superb game of 1197 in the second game to take over the running as the Swedes slipped to second despite another good game of 1124, 23 pins adrift.
Favourite Korea stayed close to the leading duo in third with USA and Singapore in fourth and fifth positions while Colombia stumbled to a 991 to slip out of contention.
The German quintet ended the first block over the long oil pattern with 1102 in the lead with a team total of 3358. Sweden finished second with 1071 for a total of 3304.
Singapore, who rolled 1053 and 1108 in their first two games, stormed home with sizzling 1141 to snatch third spot with 3273 while USA completed their first three games with 1103 for fourth position with a total 3264.
Korea managed only fifth position with 3247 followed by Malaysia in sixth position on a total of 3207. Shayna Ng shot the highest three-game series of 738 to move into the lead of the All Events standings with 4896 after 21 games contested.
Liz Johnson of USA moved up from third overnight to second with 4835 ahead of Singles and Trios silver medalist, Cherie Tan on 4809. Singles gold medalist, Jeon Eun Hee of Korea and Doubles gold medalist, Danielle
Detailed scores: Team of 5 Block 1 | All Events Standings | Photo ALbum. Photos by Terence Yaw in Abu Dhabi, UAE.