Primary Schools League 2014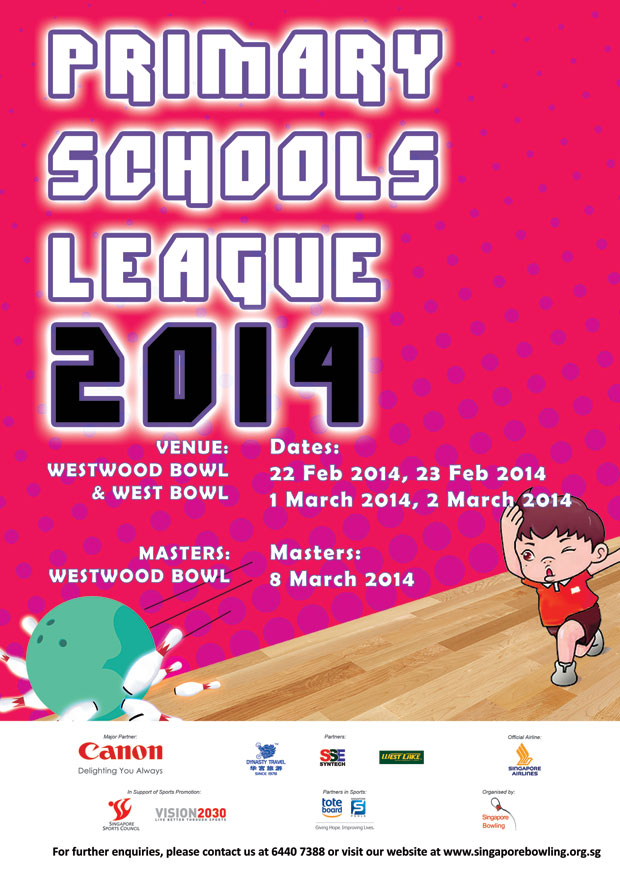 The Primary School League 2014 is open to all Singapore citizens, permanent residents and foreign students studying in the Primary level (Primary 1 to 6 students) below the age of 13 years old as at 1st January 2014, each of which must individually and collectively qualify under the constitution, rules and regulation of Singapore Bowling Federation.
This League shall be played in accordance with the Rules and Regulations of SBF. This is a Foursome League of Boys & Girls Teams.
Each team shall comprise of four bowlers, with an official line-up consisting of at least three bowlers.
A team without the official line-up at the start of the league game will be deemed to be a walkover.
Any team bowling with less than the number of bowlers required for an official line-up but having the required minimum number of three bowlers shall use a blind score of 80 per game for the absent bowler.
League Fees:
Game fees for each team (4 bowlers) per week is $40.00 (3 games per bowler) over 4 weeks totalling $160.00.
Masters Finals:
The top average 20 Boys & 16 Girls shall qualify for the League Masters. (Top Average – Minimum attempt of 6 games).
Each bowler shall bowl a 6-game series on 22nd & 23rd February at Westwood Bowl and 1st & 2nd March at West Bowl. The Masters finals will be held on 8th March at Westwood Bowl.
All Girls will be given a 10 pins handicap per game (therefore 60 pins for 6-games series).
Boys will bowl on scratch basis (no handicap is given).
All League Master Finalists are to check-in at least 30 minutes before the scheduled time for the League Masters; failing which he/she will be disqualified and the respective reserve will be called. The clock in the bowling centre will be the official timepiece.
For more information, download the Prize List, Rules and Regulations and Registration Form.
Check out the SBF blog for latest LIVE resuts.
Organized by:
SINGAPORE BOWLING FEDERATION
No. 100, Tyrwhitt Road,
#02-05 Jalan Besar Swimming Complex
Singapore 207542
Tel: 65 6440 7388 Fax: 65 6440 7488
Email: general@singaporebowling.org.sg
Closing Date: 17th February, 2014