Pole position for Singaporean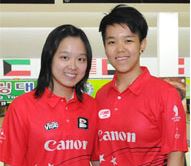 8th July, Daejeon, Korea: 2013 IBC champion, Shayna Ng took over pole position in the Women's Open Masters overseas qualifying pool at the 2013 It's Daejeon International Open Bowling Tournament underway at Worldcup Bowling Center on Monday.
Ng posted 708, 628 and 558 to take over the lead after one last night and two this morning for a total of 1894. The Singapore Open second runner-up improved her lowest 558 series with 624 this afternoon to take her 9-game tally to 1960.
The Singaporean finished 152 pins ahead of overnight leader and 4th Asiam Indoor Games Team gold medalist, Huang Chiung Yao in second position with 1808. 4th AIMAG Team silver medalist, Zatil Iman and Dayang Khairuniza finished third and fourth with 1798 and 1790 respectively.
Jazreel Tan managed 1758 despite posting a lowly 515 series to add to her two other series of 643 and 600 to take up seventh behind two Taiwanese, Tsai Hsin Yi and Chen Hsiu Lan in fifth ans sixth.
2012 World Youth Team bronze medalist, Kim Ga Ram of Guk Seong City registered the highest 3-game series of the tournament with her stunning 803 at the 3.00pm squad to share the lead with Ka Yun Mi on 2105 in local pool.
Kim Ho Jeong of KPBA dropped to third with 2059 while the current cut in 15th position went to Korean national team member, Baek Seung Ja on 1999. Current cut for the women's division stood at 1958 and is held by Kim Yeong Suk of Korea.
The top 15 local women qualifiers, top 10 overseas women qualifiers and top 20 qualifiers from the mixed pool (total 45) will contest the 9-games finals on July 11 with the top 3 advancing to the TV Shootout finals.
Meanwhile PBA pro and current World Bowling Tour Ranked No. 1, Mika Koivuniemi of USA rolled the fourth perfect game en-route to taking pole position in the Men's Open Masters overseas pool with 2124.
Ashok Akaash Kumar of India, who was at the 4th Asian Indoor & Martial Games last week, won himself a Hammer bowling ball by scoring the highest series in the first squad this morning with 742.
His new total of 2067 earned him second in the table. Chinese Taipei's Huang Teng Wei did well to take up third spot with 1998.
Singapore's Ng Chiew Pang and Ng Tiac Pin made the cut for the finals in 13th and 17th positions with 1802 and 1765 respectively. There were 30 slots in last year's format but has been reduce to 20.
The cut at 20th position last year was 1835 so both the Singaporeans will have tomorrow's final day of qualifying to improved their scores to secure their places in the finals.
There were changes atop the local pool with ex-international, Lee Ik Kyu of Korea retaining top spot with 2223 followed by Kim Young Pyo and Park Kyung Shin of KPBA second and third with 2199 and 2168 respectively.
Jeong Tae Hwa of KPBA and former member of the PBA Tour headed the mixed pool with 2031 while the cut at the bottom of this pool went to Lee Chi Song of Korea with 1955.
The top 40 local men qualifiers, top 20 overseas men qualifiers and top 59 qualifiers from the mixed pool including defending champion, Hong Hae Sol of Korea (total 120) will contest two rounds of 8 games finals on July 11 and 12 with the top 4 advancing to the TV Shootout finals.
The 2013 It's Daejeon International Open Bowling Tournament is the eighth stop in this year's PBA-WBT World Bowling Tour and with prize money well over 215 million Korean won (approx. US$190,000), it has been classified as a Major PBA-WBT tournament.
Detailed scores: Women's Open Qualifying | Men's Open Qualifying | Photo Album.
Photos by Terence Yaw in Daejeon, Korea.