One-two finish for Singapore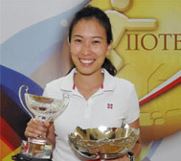 22nd September, Jakarta: Stage 1 leader and top seed, Geraldine Ng captured her first major international title with victory over team-mate, Cherie Tan in the all-Singapore Women's Open Open Masters finals of the 11th Indonesia International Open on Sunday.
Stage 1 leader and top seed, Geraldine Ng had to work hard for her maiden victory when she was forced into the second deciding match after losing to team-mate and No. 3 seed, Cherie Tan, 220-222 in the all Singapore Women's Open stepladder finals.
An early miss in the second frame costed Ng and despite striking out from frame 9, she narrowly lost the first match, 220-222. But Ng bounced back stronger to bring home a clean game while Tan suffered a split in the third frame and never recovered. Ng went on to win the deciding match, 206-197 for the victory.
"Finishing first yesterday gave my confidence a big boost but I had to work extremely hard today to earn the top seed," said the 27-year-old Ng, who had finished third twice, once last year and once in 2010.
Tan made it an all-Singapore finals after she defeated defending champion and second-seed, Sharon Limansantoso of Indonesia and Siti Shazwani of Malaysia, 256-215-182 in the semi-finals.
Siti sailed past No. 5 seed and compatriot, Alisha Iman and Angkana Netvriseth of Thailand, 247-188-195 in the first Women's Open stepladder match to advance into the second match.
The champion ended the Stage 2 finals in pole with 2356, a comfortable 63 pins ahead of Limansantoso in second with 2293 followed by Tan in third position with 2274. Siti, Alisha and Angkana advanced in fourth to sixth positions.
A third Malaysian, Dayang Khairuniza missed the cut in seventh position with 2095 while Puteri Astari, who was fifth before the final game, finished eighth. Singapore's three other finalists, Tay Hui Wen, Daphne Tan and Jasmine Yeong-Nathan ended up in 9th, 14th and 16th positions respectively.
Ng won 50 million rupiah (approx. US$4,400) as champion, Tan took home 25 million rupiah in second and Limansantoso 12.5 million in third. Fourth to sixth placed finisher earned 10, 8 and 6 million rupiah respectively.
Meanwhile, Yeri Ramadona made history by becoming the first Indonesian to win the Men's Open Masters title after he defeated No. 2 seed and challenger, Yaqoub Al Shatti of Kuwait, 237-201 in the title match.
The Indonesian started off with three strikes-in-a-row as the Kuwaiti had an opened frame in the third with a split. Ramadona rolled another turkey after frame 5 and when Yaqoub encountered another split in the sixth frame, the match was sealed and done for Ramadona.
Yaqoub had earned the right to challenge Ramadona after he dispatched two Malaysians third-seed, Kang Bo Long of Malaysia and defending champion and winner of the first match, Isaac Russell, 256-201-172 in the semi.
Russell advanced after he defeated fourth-seed, Michael Tsang of Hong Kong and sixth-seed, Adhiguna Widiantoro, 234-219-186 in the Men's Open first stepladder match.
In the earlier Stage 2 finals, the champion earned top seed with a 10-game total of 2377 followed by Yaqoub in second with 2309 and Kan third with 2307. Tsang, Russell and Widiantoro made the cut in fourth to sixth positions.
Eric Tseng of Hong Kong missed the cut by 7 pins after finishing seventh with 2210 while top local qualifier and Youth U20 champion Diwan Rizaldy took eighth position with 2201. Stage 1 leader, Alex Liew of Malaysia ended in tenth position.
Ramadona pocketed 150 million rupiah (approx. US$13,200) as champion while Yaqoub settled for 100 millin rupiah for second and Kang 60 million for third. Fourth to sixth placed finishers earned 40, 25 and 20 million rupiah respectively.
Detailed scores: Women's Open Stepladder Finals | Men's Open Stepladder Finals | Photo Album.
Photos by Terence Yaw in Jakarta.