One advances one misses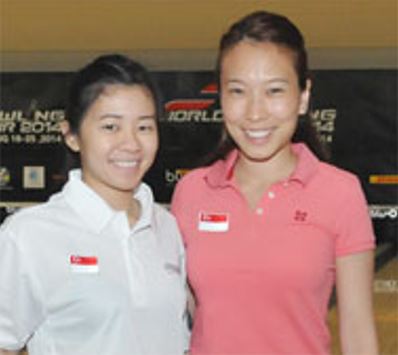 24th August, Bangkok: Bernice Lim of Singapore advanced into the next round of the 2014 PBA-WBT #12 World Bowling Tour Thailand after finishing fifth in Round 2 while Geraldine Ng missed the cut in 15th position.
Kulick, the 2010 World Bowling Writers Women Bowler of the Year, got off the block brilliantly with 224 to lead 2013 ABF Tour TOC winner, Surasak Manuwong thanks to an 8-pin handicap she received bowling against the men.
The 37-year-old American from Union, N.J. lost the lead briefly after the second game to 2011 ABF Tour Thailand women champion, Yanne Saebae of Thailand, who rolled 254 following her 191 opening game.
Indonesian Ryan Lalisang trailed the Thai after knocking down 263 as Kulick slipped down to third. But Kulick bounced back with 218 in the third game to regain the lead as Bernice Lim took over second spot.
With back-to-back 257 in the fourth and fifth games, Kulick had already built up a sizeable lead of 77 pins to her nearest rival. Thai national, Atittarat Cheng posted two big games of 255 and 243 to take second spot.
Round 2 finalists, Bernice Lim and Geraldine Ng
The leader cruised home with 207 to win the round with 1415, 124 pins ahead of Lalisang in second with 1291. Cheng settled for third with 1278 ahead of Korean pro, Han Sol in fourth with 1260.
Lim and Saebae finished fifth and sixth positions with 1258 and 1228 while Kang Bo Long of Malaysia finished seventh with 1227. Two additional Korean pro, Gu Yong Jin and Kim Young Kwan took eighth and ninth spots with 1224 and 1215 respectively.
Early pace-setter, Manuwong clinched the tenth and final spot to advance into the next round with 1199. This year's Thailand Open champion, Kim Bolleby of Sweden missed the cut by 5 pins to finish 11th.
Geraldine Ng could not get into her usual stride starting poorly with 178, 171 and 180 before a disastrous 133 in the fourth game which saw her slipped down the field. Ng ended a disappointing 15th position with 1118.
The top 10 will join qualifiers position ninth to 24th for another 6 games from scratch with the top 12 finishers advancing to Round 4 finals the next day. The top 7 plus top local bowler will then advance to the TV Shootout Finals at 2.00pm.
Detailed scores: Round 2 Finals | Photo Album.
Photos by Terence Yaw in Bangkok.