Ng delivers Singapore's first gold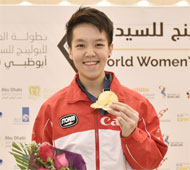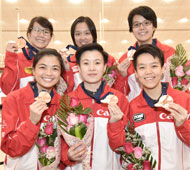 Ng delivers Singapore's first gold
12th December, Abu Dhabi: Trios silver and triple bronze medalist, Shayna Ng finally delivered the nation's first gold medal at the Women's World Bowling Championship 2015 from the All Events on Saturday.
But there was a tense moment for 25-year-old 2012 QubicaAMF World Cup champion. Ng had led the All Events standings after the first block of 5-player Team yesterday with 4896, 61 pins over her nearest rival, Liz Johnson of USA.
Johnson was on a roll in the sixth and final game of the Team event. When Ng ended her sixth game, she had a superb six-games total 1429. The American needed to strike twice in her last frame but she left a stubborn pin 10 standing.
Athough she ended on a higher six-games total of 1433, her 24-games total in the All Events felled short by just a single pin on 5586 allowing Ng to win Singapore's first gold of the championship with 5587.
"It has been a great week for Team Singapore, not just for me, because we made the semi-finals in every event so far, and to finally get the gold medal after being close many time, is special," Ng said.


Shayna Ng at last with a well-deserved gold medal "I knew roughly what the numbers were, but I told myself to take it one shot at a time. I finished first and knew I was guaranteed the gold medal, but I was ready to share it with Liz. She bowled so well, and I really felt for her when that pin didn't fall."
Cherie Tan, who was third overnight, was over-hauled by Singles gold medalist, Jeon Eun Hee for the bronze medal with 5521 to Tan's 5466, 55 pins adrift in the All Events standings.
Ng and Tan will be joined by New Hui Fen and Joey Yeo, who finished 12th and 23rd positions in the All Events. Jazreel Tan and Daphne Tan both did not qualify for the Masters finals.
Meanwhile, in the earlier Team semi-final, Cherie Tan, Daphne Tan, Shayna Ng, New Hui Fen and Jazreel Tan were outclassed by USA, 1026-1105 to take home another bronze medal. Liz Johnson scored the championship's third 300 to anchor USA to a perfect victory over top-seed, Korea 1168-1066 to win their second gold medal.


Singapore adding yet another bronze medal
Korea convincingly dispatched first block leader and fourth-seed, Germany 1195-1067 to face USA in the final match. Team USA, who was fourth in the first block yesterday, completed their second block of three games to advance to the semi-final in second position with 6670.
Korea, who was in fifth overnight, leapfrog into top spot with 6738 while first block leader, Germany hung on to clinch the fourth and last semi-final spot with 6506. Sweden dropped from second to fifth to miss the cut by 49 pins.
Five from Korea, four each from Singapore and Sweden, three each from USA and Germany and one each from Finland, Latvia, Malaysia and Venezuela made up the top 24 qualifiers for the Masters finals on Sunday, December 13.
The Masters finalist will bowl 6 games in Step 1 Final with pins carried forward from the All Events. The top eight will advance for another sevent games in the Round-Robin Matchplay Step 2 Final, again with pins carried forward. The top four at the end of Step 2 finals will qualify for semi-final and final medal matches.
Detailed scores: All Events Standings | Team of 5 Semi-final & Final | Team of 5 Block 2 | Medal Photo ALbum.
Photos by Terence Yaw in Abu Dhabi, UAE.