National youth takes third spot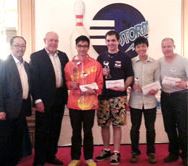 18th May, Manila: National youth, Javier Tan of Singapore put in a consistent display to finish third in the 10th Euro-Med Storm International Masters after narrowly losing to Sam Cooley of Australia in the second stepladder match.
Tan has always been known for his consistency, none of that changed for this tournament as he adapted well and focused on his game. His consistency saw him overcome the competition and advanced to Stage 3 of the tournament.
Only the top 8 bowlers advanced to the round-robin matchplay finals, bowling seven games with one game position round. With each match played, 10 pin bonus for a win and 5 pins bonus for a draw.
Tan won 5 out of the 8 matches earning him a bonus 50 pins allowing him to qualify to the stepladder finals after finishing a superb third.
In the first stepladder match, the Singaporean square off with fourth-seed Tim Mack of USA. Both were neck to neck right through to the ninth frame locking at 205 each. Tan spared his tenth frame and struck in his bonus frame.
The American also spared his tenth frame but left a single pin in his bonus frame to give Tan a narrowest of victory, 225-224 to advance to the next match.
Tan started off superbly with a double strike in his first two frames but then suffered a split in the third frame while second seed, Sam Cooley of Australia had a double in the third and fourth frames.
Tan recovered with another double in the fourth and fifth frames and another in the seventh and eighth frames to close the gap between himself and the Aussie to just 2 pins.
Luck was not on Tan's side as he could not bring home a strike as Cooley doubled in the ninth and tenth frames to seal the match, 223-212.
Cooley subsequently lost to top seed, Eric Tseng of Hong Kong, 202-214 to settle for second position as the Hong Kong national kegler won his first-ever international title and the top prize of 1 million Philippine peso (approx. S$30,400).
The first runner-up settled for 500,000 peso and Tan earned 250,000 peso (approx. S$7,500). Mack took home 125,000 peso for finishing fourth.
Ng Tiac Pin, Joel Tan, Alex Chong and Justim Lim who qualified for the Stage 1 finals were eliminated finishing 20th, 32nd, 35th and 37th positions. Howard Saw led Keith Saw, Jaris Goh and Javier Tan into Stage 2 finals in 5th, 13th, 14th and 16th positions.
Only Javier Tan advanced into Stage 3 finals in sixth as Keith Saw missed the cut in ninth by 7 pins. Howard Saw and Jaris Goh crashed out in 14th and 24th positions.
Photos courtesy of ABF.