National kegler makes Top 8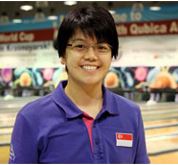 22nd November, Krasnoyarsk, Russia: National kegler, Cherie Tan made her second Top 8 Round-robin Matchplay finals of the 49th QubicaAMF Bowling World Cup despite slipping down from fourth to fifth while Joel Tan missed the cut.
Cherie, who made the Top 24 Round in fourth, posted an 8-game score of 1768 for a 32-game total of 7373 to slip on spot dwon to fifth. The 25-year-old Singaporean aso made the Top 8 finals in her previous appearance in 2011.
Overall leader and 2009 champion, Caroline Lagrange of Canada continued her fine form to remain in the lead with 7809 after registering 1853 in this round. Twot-ime champion, Aumi Guerra of Dominican Republic continued to trail in second with 7689.
American Danielle McEwan moved up to third with 7571 as Filipina, Maria Lourdes Arles dropped one spot to fourth with 7392 ahead of Cherie.
Roosa Lunden of Finland, Thashaina Serarus of Aruba and Luminita Farkas Bucin of Romania completed the Top 8 in sixth to eighth positions with 7326, 7227 and 7134 respectively. Jaruka Matsuda of Japan missed the cut in 9th position with 7077.
Meanwhile, Peter Hellstrom of Sweden continued his strong pace to lead the Top 8 men with 7787 after he scored 1895 in the Top 24 Round. Or Aviram of Israel moved up to second spot with 7742.
Mats Maggi of Belgium slipped one spot to third with 7708 with Guy Caminsky of South Africa improving to fourth with 7675. American John Szczerbinski posted the highest 8-game series of 1994 to haul himself up to fifth with 7661.
Bodo Konieczny of Germany, Humberto Vazquez of Mexico and Alexei Parshukov of Russia made the Top 8 in sixth to eighth positions with 7628, 7616 and 7612 respectively.
Manuel Fernandez of Dominican Republic missed the cut in ninth position with 7575 while double perfect gamer, Tore Torgersen of Norway finished tenth. Nino Stenko of Slovenia and Joel Tan of Singapore each rolled a 300 game brining the total number of perfect games to 16.
Joel, however remained in 19th position and failed to progress. The Top 8 women and Top 8 men will contest the 8-game Round-robin Matchplay finals and the top 3 women and top 3 men will advance to the stepladder finals.
Detailed scores: Women's Top 24 | Men's Top 24 |Photos courtesy of Hero Noda, QubicaAMF.