PRESS RELEASE
26 May 2017 –  'Girls Domination' at Philippine International Open 
Teenagers Jermaine Seah, Iliya Syamim Bte Mohd Azni and Amabel Chua dominated the Youth Girls Open category today at the Philippine International Open at Coronado Lanes in Manila, Philippines, where they took the first, second and third spots respectively.
The trio had qualified for the finals as the fourth, seventh and second seeds respectively.
Iliya and Seah started strongly with Seah setting the pace early. Iliya caught up to share the lead at the second game before reinforcing her lead for the next four games. Seah snatched the lead with a stunning 268 in the seventh game. She bowled a splendid 255 to seal victory with a total of 1680 pinfalls across eight games.
It is the second time in three days that the pair took to the podium. Iliya, 18,  and Jermaine, 17, were the first and second runner up in the Women's Open category on Wednesday.
Both girls maintain that they spur each other on despite the fierce competition. Jermaine said: "Being roommates, we always told each other to try our best so it didn't matter who won, and that 'may the best bowler win'."
Iliya believes that this sense of camaraderie was essential to giving her a cool head on the lanes. "It helped us greatly as we would not be so focused on beating each other, but rather making good shots."
As to how she kept her nerves for a spot in the top three, 17-year-old Amabel said, "I felt nervous at the start of the finals because of the expectations that I had set for myself. After that, I started to take one game and one shot at a time so that I will not think of the outcome.
For the Youth Boys Open Masters Finals, Keith Tan piped Ahmad Safwan to second place by a mere pinfall with a score of 1581.
The pair started strongly in the first five games. It was a fight for the top spot with both Singaporeans notching big games. However, they lost steam after that and Ivan Malig from the Philippines seized the opportunity and stormed ahead posting high scores of 223 and 257 in the sixth and eighth game.
The team heads back to Singapore tomorrow night to compete in the Singapore International Open starting tomorrow. The finals will be held on 11 June 2017 at SingaporeBowling@Rifle Range. Admission is free.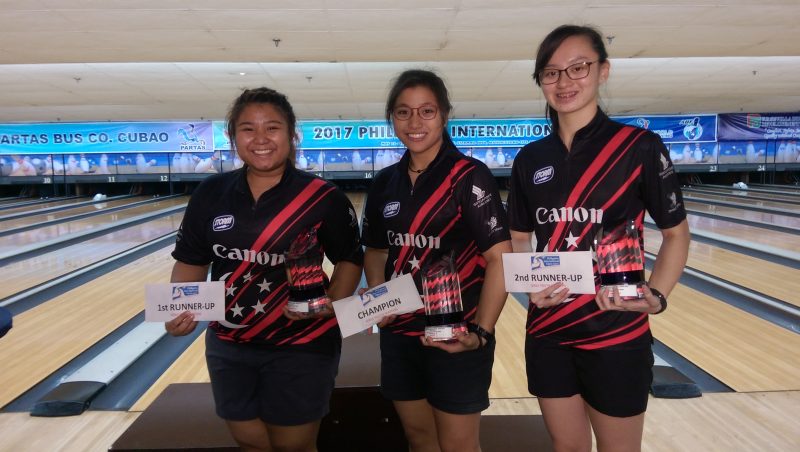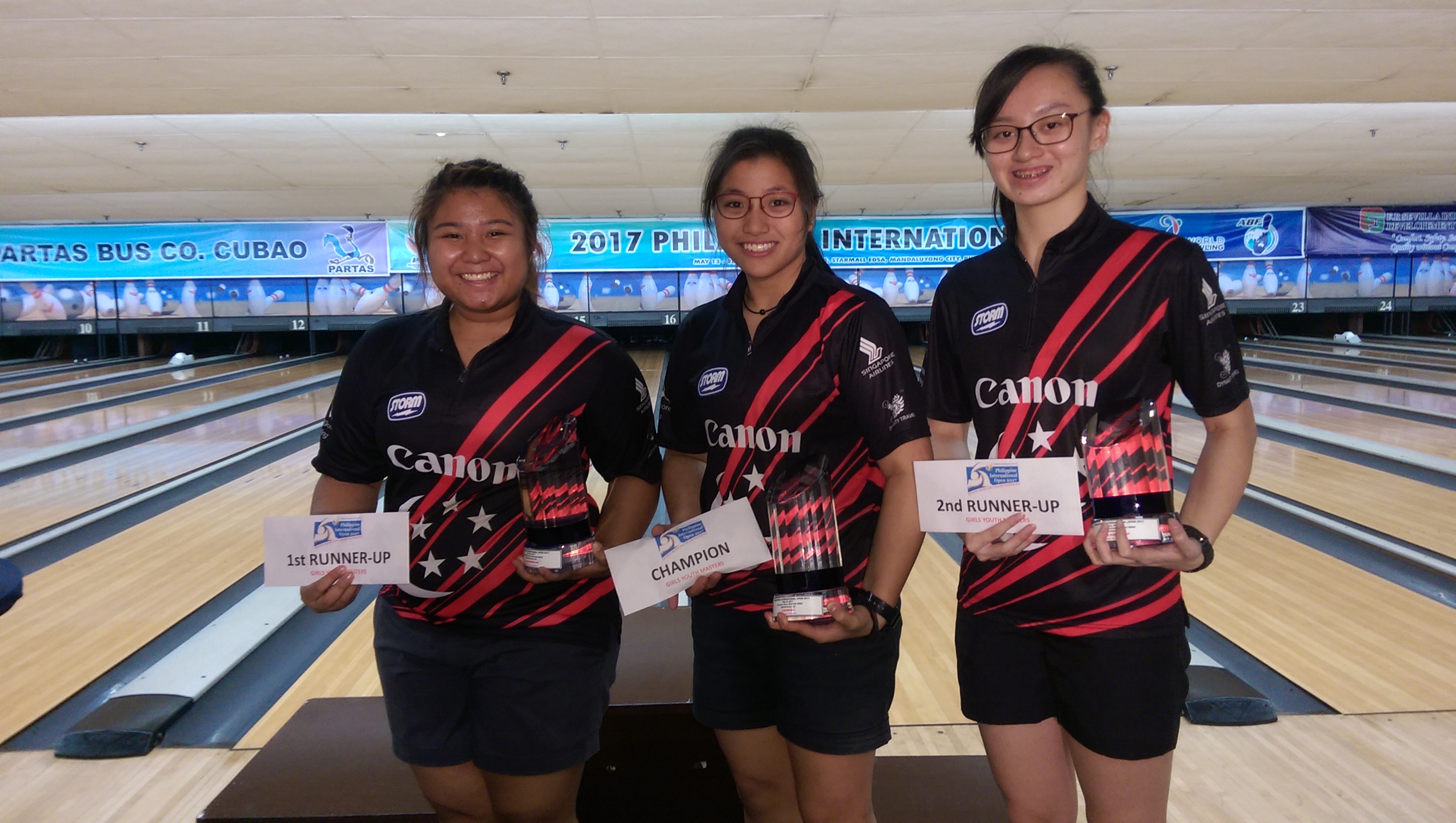 From left: Iliya, Jermaine and Amabel take top spots in Youth Girls Open category.