Free bowling at SBF new centre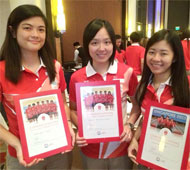 8th September, Singapore: SingaporeBowling Pte Ltd wishes to announce that our new bowling centre at Temasek Club is now opened for business and there will be free bowling from September 14 to 27 from 12 noon to 8.00pm.
For reservation, call: 68500300 or fax: 68500309.
Address:
c/o Temasek Club
131, Rifle Range Road,
Singapore 588406.
Photos by SingaporeBowling.