Four Singaporeans make next stage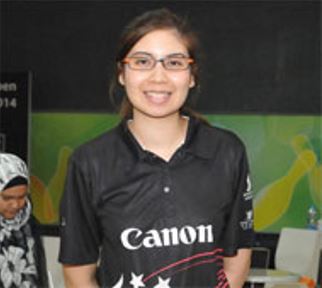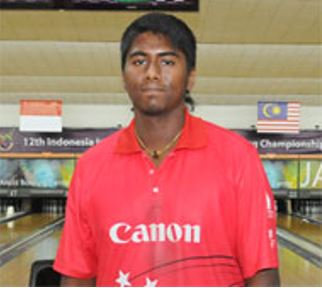 25th October, Jakarta: Suresh Elangovan and three women, Iliya Syamin, Jasmine Yeong-Nathan and Charlene Lim advanced into the next stage of the Men's and Women's Open Masters finals of the 12th Indonesia International Open on Saturday.  
Suresh made the cut in 17th position with an 8-game total of 1679, averaging 209.88 as Johnathan Chan of Malaysia and newly-crowned Senior Masters champion, Gu Yong Jin of Korea fought out a fierce battle for the lead throughout the stage.
Chan rounded out with two back-to-back 258 games to win the stage with 1938 as the Korean settled for second position with 1884. Rafif I Santoso was Indonesia's best performer taking up third position with 1809.
Two-time champion and Asian Games Incheon Team silver medalist, Alex Liew and his compatriot, Ahmed Dzikri Adam completed the top 5 with 1766 ad 1760 respectively. Syimir Abdul Razak of Malaysia and Hong Kong's Wicky Yeung tie in 18th position but the Malaysian advanced due to a higher final game.
  Seven Malaysians, five Indonesians, two Hong Kong nationals, two Korea pros and one Indian and one Emirati made up the top 18 men who will join the 6 seeded qualifiers for Stage 2 finals tomorrow.
In the women's division, Asian Schools Doubles bronze medalist, set a cracking pace with a stunning 256 in her opening game to lead 2013 Asian Youth Singles bronze medalist, Cheya Chantika of Indonesia in second, 4 pins adrift.
2009-2012 champion, Sharon Limansantoso of Indonesia totaled 1764 to win the stage ahead of 2013 ABF Tour Hong Kong leg champion, Milki Ng of Hong Kong finishing second with 1755. Newcomer, Adien Y of Indonesia took third spot with 1734.
Indonesians Aldila Indryati and Asian Games Incheon Team bronze medalist, Novie Phang completed the top 5 with 1716 and 1715 respectively.
Sharon Koh of Malaysia was the cut in 15th position with 1587. Joan Cheng and Chan Shuk Han joined Ng to have three Hong Kong women in the next stage. Three Malaysians and three Singapore women also made the cut who will join the 6 seeded qualifiers for Stage 2 finals tomorrow.
  Detailed scores: Men's Open Stage 1 | Women's Open Stage 1 | Photo Album.Photos by Terence Yaw in Jakarta.