Four makes cut for next round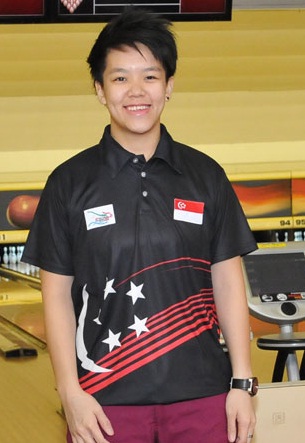 18th January, Nagoya: Overnight first block leader and reigning AMF World Cup champion, Shayna Ng ended the third block of the PBA-WBT #4 International Bowling Championship to advance into the next round joined by three team-mates.
hayna, who had a 46 pin cushion over her nearest rival, Liz Johnson of the United States after thr second block, lost the lead after the American rolled a big game of 279.

But the Singaporean bounced back with 237 to end the third and final block with 2162 to advance into the next round in pole position. Johnson settled for second with 2150, 12 pina drift while Indonesia's Tannya Roumimper gradually moving up from 20th after the first block to ninth after the second.

Tannya registered 706 in the second and 756 in her second and third to take up third spot in the standings with 2140. World Singles champion, Kelly Kulik finished fourth with 2123 ahead of Jazreel Tan of Singapore in fifth spot with 2105.

Malaysia's Zandra Aziela (2072), Daejeon's Lee Na-Young (2031), Japan's Izumune Shion (2020), Malaysia's Sin Li Jane (2013) and USA's Shannon Pluhowsky (2011) completed the top 10.

Singapore's Kristel Oh pipped last year's second runner-up, Jeon Eun-Hee of Korea by 3 pins to snatch the last and 24th spot for the next round with 1940. Singapore's Geraldine Ng was also unlucky missing the cut by 8 pins on 1932.Joey Yeo, who was 11th after the first block fell out of contention ending in 34th. New Hui Fen was also eliminated after managing 38th while debutants, Kimberly Ooi and Daphne Tan tied 40th position.
Meanwhile, Japanese ex-national, Saito Shigeo topped the third and final block of the Round 1 finals to lead with 2194 over 9 games. The 41-year-old Saito had gradually moved up from eighth after the first block to third at the end of the second block with 1447 to trail leader, Ryan Ciminelli and Tommy Jones of the United States.

But his superb double 277s and a 193 in the eighth game gave the Japanese 747 to pip defending champion, Jones for the lead with a 9-game tally of 2194. Jones had traded the lead with Saito and Ciminelli before settling for second with 2166.

Malaysian 16-year-old sensation, Rafiq Ismail took third spot with 2136 while Korea's Park Jong-Woo registered the highest 3-games series with 804 in todays two blocks to leapfrog into fourth spot with 2127.

There were several 299s rolled today but none could register the tournament's sixth 300. World Singles Champion, Chris Barnes came close with 299, which helped him to up to fifth overall with 2108.

JBC's Wada Shogo finished ahead of two JPBA bowlers, Yamamoto Isao and Tagata Kengo for sixth to eighth positions as overnight first block leader, Ryan Ciminelli slipped down to ninth follwed by PBA pro, Sean Rash rounding out the top 10.

Jay Leon Guerrero of Guam defeated Japan's Yoshida Fumihiro 225-209 in a one-game roll-off to break the tie at 24th position on 1988.

The top 24 men and top 24 women will contest two additional blocks of 3 games each with pins carried forward this evening. The top 5 men and top 5 women will advance to tomorrow's TV Finals Eliminator.

Detailed scores: Women's First Block | Men's First Block | Photo Album.

Photos by Terence Yaw in Nagoya.