Five Singaporeans in the finals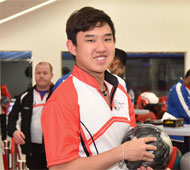 5th March, Sitra, Bahrain: Jazreel Tan headed four team-mates, Bernice Lim, Muhammad Jaris Goh, Cherie Tan and New Hui Fen into the finals of the PBA-WBT #9 13th Kingdom of Bahrain Open at the end of the qualifying rounds late Thursday.
Jazreel, Bernice, Muhammad Jaris and Cherie earned one bye to advance automatically to Round 3 finals in 14th, 16th, 17th and 18th positions respectively while Hui Fen will contest the Round 2 finals after qualifying in 21st position.
Newly-crowned H.H. Emir Cup 2015 champion, Tannya Roumimper of Indonesia topped the table with 2826 to lead two Americans, Marshall Kent and Tim Mack, Ildemaro Ruiz of Venezuela, Khaled Al Dubyyan of Kuwait and top Bahraini qualifier, Yousif Falah for Round 5 finals on March 7.
Squad E leader, Tom Daugherty of USA headed the second bracket with two byes into Round 4 finals. Martin Larsen of Sweden was the cut in 12th position.
Squad F leader and 2012 champion, Osku Palermaa of Finland headed the third bracket with one bye into Round 3 finals together with four Singaporean qualifiers.
Christopher Sloan of Ireland headed the fourth bracket in 19th position alongside Hui Fen in 21st position. American PBA pro, Brad Angelo of Lockport, NY took the 27th and last spot of the qualifying table 2549 from an almost perfect game in the 11th game of 299.
Mohammed Janahi and Abdulla A. Karim earned the 28 and 29 spots reserved for Bahrainis. Missy Parkin of USA was the top women qualifier outside the top 27 with 2546 and was awarded position 30 while Daphne Tan of Singapore missed the cut in 32nd position by 4 pins.
Positions 19 to 30 (12 qualifiers) will contest 6 games Round 2 finals at 10.00am local time tomorrow. The top 6 finishers will join qualifiers positioned 12 to 18 for another 6 games from scratch in Round 3 finals at 4.00pm.
The top 6 finishers from Round 3 will advance to Round 4 joined by qualifiers positioned 7 to 12 for another 6 games on March 7. The top 6 finishers from this round will progress to Round 4 finals joined by the top 6 seeded qualifiers for the final 6 games in Round 5.
The top 3 will make the cut for the stepladder finals. The second and third seed will square off in the semi-final over one match. The winner will challenge the top seed in the final on a beat-twice format for the title.
Detailed scores: Qualifying Standings | Squad F Block 2 | Squad E Block 2 | Photo Album.
Photos by Terence Yaw in Bahrain.