First runner-up for Singapore youth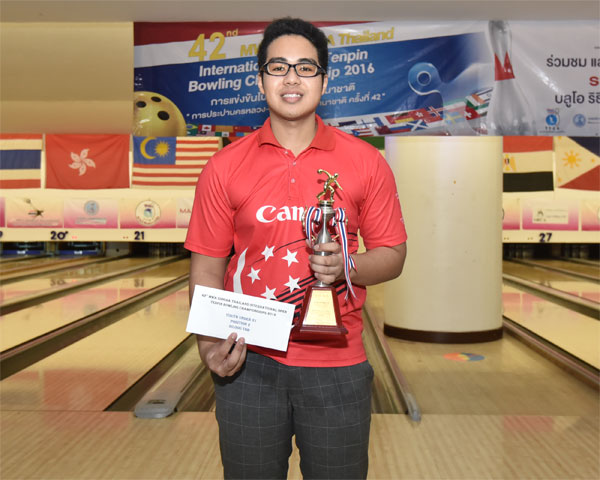 11th April, Bangkok: Singapore national youth, Muhammad Danial Zheng Yi put up an impressive display to finish as first runner-up in the Youth Under-21 Masters final of the 42nd MWA Singha Thailand International Open Tenpin Bowling Championship on Monday evening.
Muhammad Danial had a good start with 222 in his opening game as Malaysia's Mohd Nazmi and Abang Afiq Yazid shared the lead with 246, one pin ahead of a third Malaysian, Syaffique Ikhwan in second. Syaffique almost rolled the tournament's first perfect game with 299 following his 216 in the second game to take over the running.
Thai youth, Natthida Sertluecha fired 258 and 280 to take up second, 32 pins adrift as Muhammad Danial shot 216 and 258 to stay close to the leading duo. Syaffique continued his relentless pace to lead the field in his three games. Muhammad Danial trailed the lead after the fifth game but slipped to third after another Malaysian, Tun Hakim moved up into second.
A superb 259 from Muhammad Danial in the seventh game saw the Singapore youth taking over the lead as Syaffique slipped down to second, 17 pins adrift. Tun Hakim was third, a furhter 21 pins away.
Unfortunately, Muhammad Danial managed only 214 in his final game to settle for first runner-up position with 1835. Tun Hakim fired a big game of 249 to clinch the title with 1851, 16 pins ahead. Syaffique settled for third with 1805.
Malaysian youths, Christopher Tiong and Faten Najihan rounded out the top five with 1705 and 1692 respectively. Thai youth, Natthida Sertluecha, who was second at one stage ended in sixth position with 1691 as Mohd Nazmi finished in the money with 1686 in seventh.
Singapore's other finalist, Zachery Wong started off well but his inconsistency saw him finishing 13th position with 1608.
The 17-year-old Tun Hakim, who recently won the Youth Masters title at the Malaysian National Championships, pocketed 50,000 Thai baht for his victory. Muhammad Danial took home 20,000 baht and Syaffique 10,000 baht. Tiong earned 5,000 baht, Faten Najihan 3,000 baht, Natthida and Mohd Nazmi won 2,000 baht each.
Photos by Terence Yaw in Bangkok.