First runner-up for Singapore lass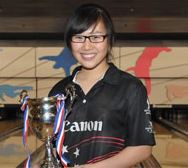 11th June, Hong Kong: Kimberly Ooi's hope of capturing her first international open title was dashed when she was beaten twice in the Women's Open Masters stepladder finals of the 39th Hong Kong Internatinal Open.
Ooi, who topped yesterday's Stage 1 finals, completed Stage 2 to advance into the stepladder finals as top seed. Ilma Nur Jannah finished third followed by Joey Yeo Ruoqi in fourth and Tracy See sixth for Singapore to take up four of the six stepladder final slots.
Fifth seed and defending champion, Esther Cheah of Malaysia eliminated Yeo and See, 210-185-148 in the first match to advance to face second seed, Chan Shuk Han of Hong Kong and Ilma in the second match.
Cheah ousted Chan and Ilma, 201-181-178 to face top seed, Ooi in the championship match. Both the contenders were locked together up to the seventh frame when Ooi had an unlucky split.
The Singapore youngster had another split in the ninth frame and opened the last frame to go down 156-193 forcing a second deciding match.
Although Ooi opened in the first frame, she struck twice in the fourth and fifth frames but her challenger got off the mark better with three strikes in a row.
The Malaysian did have an opened frame in the fifth but rolled another turkey while Ooi had a split in the eighth frame. Cheah successfully retained the women's title beating Ooi, 220-193.
"It was a close first match but I made two poor errors to allow my opponent to win the match," said the 18-year-old Kimberly Ooi. "I just didn't have the luck to win my first international title.
"But I'll take this important experience with me and will work harder for my next tournament."
Cheah earned HK$26,000 (approx. S$4,200) for the win and Ooi settled for HK$14,000 (approx. S$2,265). Chan pocketed HK$7,000 as second runner-up.
Meanwhile top seed, Zoe Dais Ma of Macau claimed his first-ever international open title when he defeated challenger, Jassim Darwish of Kuwait, 226-198 in the second deciding match.
Zoe narrowly lost the first match, 193-201 forcing a second decider. Jassim had earlier edged two Emiratis, second seed Hussain Al Suwaidi and third seed, Shaker Al Hassan, 232-227-218 in the second match.
The Kuwaiti also edged fourth seed, Lee Tak Man of Macau and sixth seed, Andrew Frawley of Australia, 186-173-157 in the first match to face Hussain and Shaker.
Zoe pocketed the top prize of HK$55,000 (approx. S$8,900) as champion with Jassim taking home HK$22,000 (approx. S$3,560) and Hussain earning HK$14,000 as second runner-up.
The champion, who trailed Hussain before the last game, snatched top spot after finishing with 242 in the final game of the Stage 2 finals. Hussain finished second with 2187 and Shaker third with 2145.
Lee, Jassim and Frawley made the stepladder finals in fourth to sixth positions with 2129, 2121 and 2098 respectively.
Singapore's sole men finalist, Alexander Tan ended his campaign in 21st position after having squeezed into today's Stage 2 finals in 18th position yesterday by 1 pin.
Detailed scores: Women's Open Stepladder | Men's Open Stepladder | Photo Album.
Photos by Terence Yaw in Hong Kong.