First podium for Singapore teenager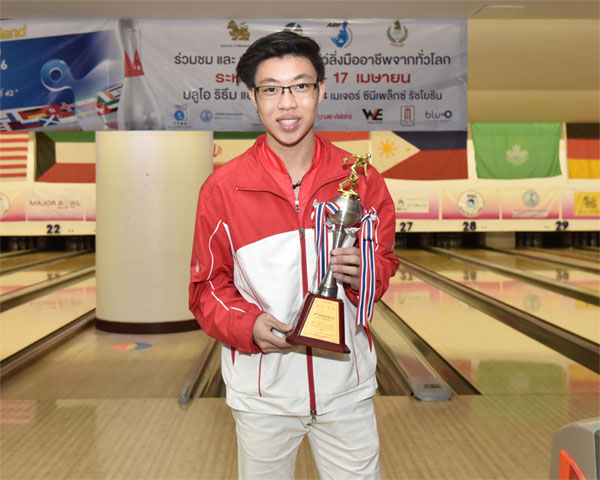 17th April, Bangkok: 2014 National Age Group Under-21 Masters champion, Norman Cai ended his fine run by finishing as second runner-up in the Men's Open Masters stepladder finals of the 41nd MWA Singha Thailand International Open Tenpin Bowling Championships.
18 year-old Cai, together with Cheah Ray Han had made the stepladder finals after finishing third with 1332 in Round 3 finals and Cheah in sixth position with 1315 to advance to the stepladder finals. Cai was eliminated by second-seed, Alex Liew of Malaysia, who won the second match with 228 to Cai's 189 and Annop 157.
Annop, who took the first match edging fourth-seed, Ryan Lalisang of Indonesia and Cheah, 210-201-208 in the first stepladder match to advance to the second match. Liew was easily beaten by top seed, Kim Bolleby of Thailand in a single match, 191-248 in the final.
Bolleby, who won his first Thailand Open title back in 2014, earned his second to pocket 300,000 Thai baht (approx. S$11,600). Liew took home 150,000 baht and Cai 75,000 baht. Annop, Cheah and Lalisang earned 40,000, 30,000 and 25,000 baht respectively.
Norman Cai with his second-runner-up trophy
Bolleby topped the Round 3 finals with 1445, 30 pins ahead of Liew in second with 1415 and Norman Cai third with 1332. Lalisang, Annop and Cheah made the stepladder finals with 1325, 1319 and 1315. Badin Lerspiriyasakulkit of Thailand missed the cut by 3 pins in seventh position.
Ahmad Safwan and basil Ng, who made the Round 3 finals, managed only ninth and 16th positions with 1310 and 1245. Cheah finished fifth in Round 2 finals earlier, joined by Ahmad in seventh, Cai in 12th and Ng in 16th positions. Jonovan Neo missed the cut by 11 pins in 19th position.
Meanwhile, two-time ABF Tour Thailand winner, Yanee Saebae gave Thailand the double celebration when she won the Women's Open Masters crown to pocket 100,000 baht. But the Thai had to work hard to earn her first open title after coming close to winning it in 2013 when she finished as first runner-up.
The top seed lost the first match, 199-209 to third-seed and challenger, Tannya Roumimper of Indonesia and was forced into the second deciding match. But the champion got back her composure to run away with the victory, 251-189 in the decider.
Roumimper, who was third last year, had to settle for first runner-up to pocket 50,000 baht. The Indonesian had earlier defeated two Malaysians, second-seed, Sin Li Jane and winner of the first match, Nur Syazwani Sahar, 246-202-232 in the second match.
Four Singapore men in Round 3 finals
Nur Syazwani easily beat fourth-seed, Sharon Koh and sixth-seed, Hee Kar Yen, 239-180-188 in the all-Malaysian first match. Nur Syazwani earned 25,000 baht as second runner-up while Li Jane, Koh and Hee took home 22,000, 18,000 and 16,000 baht respectively.
Yanee also topped the ROund 3 finals with 1382, 74 pins ahead of Li Jane in second with 1308 and Roumimper in third with 1286. Koh, Nur Syazwani and Hee made the stepladder with 1279, 1270 and 1267. Jasmine Yeong-Nathan of Singapore missed the cut by 2 pins in seventh position.
Tracy See finished tenth with 1188. Geraldine Ng was extremely unlucky to miss the cut for Round 3 finals by a single pin when she finished ninth. Tay Hui Wen finished 11th and Amanda Lee 16th position.
Photos by Terence Yaw in Bangkok.