First medal for Singapore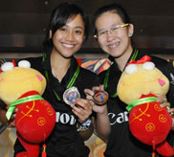 11th September, Hong Kong: The seond Singapore pair of Joey Yeo Ruoqi and Ilma Nur Jannah rallied on in the second squad of the 17th Asian Youth Tenpin Bowling Championships to win the bronze medal in the Girl's Doubles event.
Joey and Ilma started off well with 388 in their opening game but quickened their pace with 430, 423 and 408 in their next three games to stay in the hunt for a medal. Despite a slight set back in the fifth game with 396, the Singapore pair fought on galantly to finish strongly with 404 for a total of 2449.
Their effort put them second to the leader of the squad, Malaysia. Faten Najihah and Victoria Chin posted 2644 to overhaul squad 1 leader of Kim Hee Bin and Ji Eun Sol of Korea for Malaysian's second gold medal.
Singapore's second pair of Kimberly Ooi and Tracy See, who was finished fifth in the first squad with 2280, ended in 15th position overall.
Ilma, who was sixth in yesterday's Singles event, scored 1175 while Yeo who was sixth in the Singles, contributed 1274 to take a well deserved bronze medal.
Joey Yeo is third in the Girl's All Events standings with 2465 after two events behind the two Malaysians, Faten Najihah and Victoria Chin. Ilma is 12th with 2369.
Meanwhile Indonesia had a good day in the Boy's division with Singles siver medalist, Billy Muhammad Islam and Diwan Rizaldy winning the gold medal with 2712. The first Indonesian pair had topped the opening squad, 36 pins ahead of Malaysia's Jonathan Ding and Wan Nadzmi, who took home the silver medal with 2676.
The second Indonesian pair of Imam Wiguna and Adhiguna Widiantoro stormed home to edge Kuwait by 6 pins in the second squad to clinch the bronze medal with 2547.
Singapore's second pair of Alexander Tan and Justin Lim, who led the second squad right up to the final game, ended third and missed the podium in fifth spot with 2538. The first pair of Marcus Leong and Alex Chong finished 24th position with 2334.
Alexander Tan and Justin Lim lies in 11th and 12th positions with 2492 and 2491 respectively as Billy Muhammad Islam topped the standing with 2716, 91 pins ahead of Singles gold medalist, Chong Jun Foo in second with 2625.
Competition will shift to the 4-player Team event tomorrow over two blocks of 3 games on medium and long oil pattern. The top 16 boys and top 16 girls in the All Events after the Teams will qualify for the Round-Bobin Masters finals on September 13 and 14.
Detailed scores: Boy's Doubles Combined | Girl's Doubles Combined | Photo Album.
Photos by Terence Yaw in Hong Kong.