First medal for host nation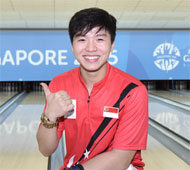 9th June, Singapore: Asian Youth silver medalist, Javier Tan secured Singapore's first medal of the 28th SEA Games Bowling Championship with the bronze medal in the Men's Singles event at Orchid Bowl @ Orchid Country Club.
2013 Asian Indoor & Martial Arts Games bronze medalist, Keith Saw had a dream start with an opening game of 248 to lie in second behind pace-setter, Adrian Ang of Malaysia, who shot a stunning 268.
Saw slipped one spot down to third after a moderate 205 as multiple Asian Youth gold medalist, Muhd Rafiq Ismail took over the running with 221 following his 246 in the first to lead Thailand's Annop Arromsaranon by 24 pins.
The Malaysian left-hander added two additional strong games of 235 and 225 to stretch his lead to 59 before stumbling to a 192 allowing a second Singaporean, Javier Tan to move up into second, just 20 pins apart.
Annop was third a further 19 pins from Tan and 2015 Asian Championships Masters gold medalist, Ryan Lalisang slipped down to third after taking second briefly after the fourth game.
Muhd Rafiq had look in danger of losing his lead and the gold meal when he missed two single-pin spares but fortunately, he struck twice to recover and went on to clinch the gold with 1308.
The Thai could have snatch the gold had he doubled up in his final frame but was content with the silver medal, just three pins adrift. Tan hung on for Singapore's first medal with the bronze.
Tan, 19, who won the Singles and Masters bronze medals, also took the silver medal in the Doubles with Muhd Jaris Goh at this year's Asian Youth in Macau, China in March.
Lalisang shot 214 in his last game was still fell short by 12 pins to miss the podium with 1272. Early pace-setter, Ang felled to seventh while Keith Saw managed ninth position.
Other Singaporeans, Justin Lim (16th), Howard Saw (26th), Joel Tan (27th) and Muhd Jaris Goh (29th) failed to find their strides and were never in the hunt for a medal.
Thirty-four women will take to the lanes for their Singles event later today. The medal ceremonies will take place thereafter.
Photos by Terence Yaw in Singapore.