First and second for Singaporeans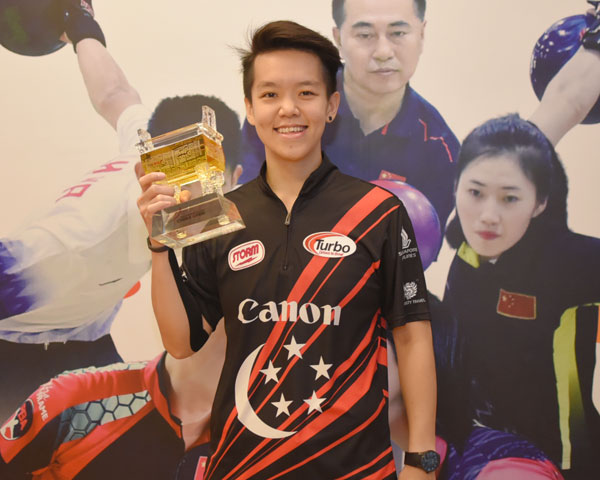 12th October, Shanghai: Singapore national bowlers had a successful outing in Shanghai after Shayna Ng emeraged as the Women's Open Masters champion and Cherie Tan as first runner-up at the China International Open 2016.
Ng needed only one match to defeat compatriot and challenger, Cherie Tan 223-205 in the all-Singapore women's championship tie. Both started cautiously picking up spares in their first two frames. Tan then had a split in the third frame while Ng struck to take a 12 pin lead.
Then Ng suffered a split in the sixth frame allowing Tan to draw level. Tan struck in the seventh frame but had another split in the eight. Ng doubled in her next two frames to open up a 20 pin lead again.
The top seed rolled four consecutive strikes thereafter and although Tan responded by striking out, Ng had sealed the match and the title.
"It's always going to be a close match when you are bowling against a strong challenger like Cherie," said Ng after her victory. "But I guess I had the better carry and was able to string together more strikes than my opponent.
Shayna Ng with the champion's trophy
"It's nice to come here for the first time and win but I have to give credit to Cherie as she fought well and kept me on my toes. I have to thank our federation, my coach, Francis Tan and our sponsors for giving us this opportunity to come to Shanghai and I'm glad to have come away with the title."
Ng pocketed 30,000 RMB (approx. US$4,450) for the win. Tan, who had reached the final after ousting two Indonesians second-seed, Sharon Limansantoso and winner of the first match, Tannya Roumimper, 199-167-194.
Tan picked up 18,000 RMB as first runner-up. Roumimper, who took home 12,000 RMB as second runner-up, defeated two Chinese, fifth-seed, He Xiaoli and sixth-seed, Li Aijun, 232-171-194 to advance to the semi-final match.
Ng had topped the earlier Round 2 final with 1295 to advance to the stepladder final as top seed, just 11 pins ahead of Limansantoso in second with 1285. Tan finished third with 1264, Roumimper fourth with 1206, He 1203 and Li 1190. Huang Liqin of China missed the cut by 4 pins to finish seventh.
A third finalist, Daphne Tan missed the stepladder cut by nine pins finishing eighth, behind Huang Liqin of China in seventh position, missing by four pins.
Meanwhile Singapore had two bowlers in Round 2 final. 2015 Singapore Open champion, Vincent Lim managed to finish 11th with 1264, missing the stepladder only by 24 pins while ex-international, Remy Ong took 15th position with 1226.
Top seed, Sam Cooley of Australia was forced into the second deciding match after he lost the first match to challenger, Wang Shizhen of China, 154-212. But a sqitch of bowling ball did the job for the Aussie as he cruised to a convincing victory in the decider, 232-199 to win the Men's Open Masters title.
The champion won the top prize of 68,000 RMB (approx. US$10,000) while Wang, who made the final match after beating second-seed, Tsai Chih-Yuan of Chinese Taipei and winner of the first match, Michael Mak of Hong Kong, 207-188-197, settled for 48,000 RMB.
Top 3 winners, Cherie Tan, Shayna Ng and Tanny Roumimper
Mak, who has three titles this year – one at the Chinese Taipei Open in July and two ABF Tour titles, sailed past fifth-seed, Shi Guangming of China and compatriot, Eric Tseng of Hong Kong, 212-196-179 in the first match. Mak took home 38,000 RMB.
Cooley advanced to the stepladder final as top seed after winning the Round 2 final with 1356. Tsai and Wang tied second spot with 1334 but Tsai was seeded second after a one-ball roll-off to break the tie. Mak finished fourth with 1299, Shi fifth with 1292 and Tseng sixth with 1290.
Detailed scores: Women's Open Stepladder | Men's Open Stepladder | Women's Open Round 2 Final | Men's Open Round 2 Final | Photo Album.
Photos by Terence Yaw in Shanghai.