Eight Singaporeans qualify for finals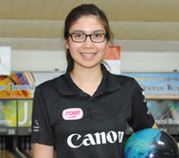 20th September, Jakarta: Eight Singapore nationa bowlers competing at the 11th Indonesia International Open secured their place in the finals including Cherie Tan and Jasmine Yeong-Nathan occupying the top 2 spots.
2009 AMF World Cup, Jasmine Yeong-Nathan found her old spark after a lean period to rolled the tournament's seventh perfet game to move out of the mixed pool with 215, 300 and 210 for a 705 series but missed the top 3.
Jasmine made another attempt, her fifth so far to improved yet again with 708 to secure second spot with 1433. Malaysia's Siti Shazwani briefly occupied top spot with 1409 before relinguishing her place to Cherie Tan.
Cherie amassed a 6-game tally of 1439 to take over the lead of the WOmen's Open Masters overseas pool and crucially a bye into Stage 2 finals. Gerladine Ng finished fifth with 1398 behind Siti Shazwani, who slipped down to fourth.
Overnight leader and KPBA professional, Han Sol also slipped down to sixth position ahead of a third Singaporean, Daphne Tan in seventh position with 1376. Amanda Ng occupied tenth in the pool with 1341.
Debutant and sixth Singapore women, Tay Hui Wen finished sixth in the mixed pool to earn her place in the finals with 1285 while the cut in ninth position went to Malaysia's ROskasmani Ramli with 1266.
Defending champion, Sharon Limansantoso, Novie Phang and Putty Armein have earn their automatic qualification for Stage 2 finals as the top 3 local finishers with 1528, 1467 and 1363 respectively.
In the Men's Open division, Suresh Elangovan of Singapore qualified for the Stage 1 finals fifth in the overseas pool with 1509 while Muhd Danial Zheng Yi finished fifth in the mixed pool with 1444.
Overnight leader, Noor Aifzal Azizan of Malaysia sits firmly in pole position in the overseas pool with his stunning 1577 from 799 and 778 series. 2012 ABF Tour Hong Kong leg champion, Kang Bo Long of Malaysia, who rolled the tournament's sixth perfect game, moved into second spot with 1543.
Fourth perfect gamer, Benjamin Hong of Singapore occupied third spot with 1532 to earn the automatic entry into Stage 2 finals together with Noor Afizal and Kang.
There were no changes atop the local pool with newly-crowned Youth Boy's U20 champion, Diwan Rizaldy leading with 1478 followed by Embes in second with 1461 and fourth perfect gamer, Hardy Rachmadian third with 1459.
The top 3 local and top 3 overseas men will earn automatic entry into Stage 2 finals while the 30 qualifiers will have to battle Stage 1 finals and finish in the top 18 to advance to the next stage.
The top 24 will contest Stage 1 finals and the top 15 finishers will advance with the top 3 local women and top 3 overseas women will bowl 10 games in Stage 2 finals. The top 6 men and top 6 women will advance to the stepladder grand finals.
Detailed scores: Women's Open Qualifying | Men's Open Qualifying | Photo Album.
Photos by Terence Yaw in Jakarta.