Classy Singapore wins third gold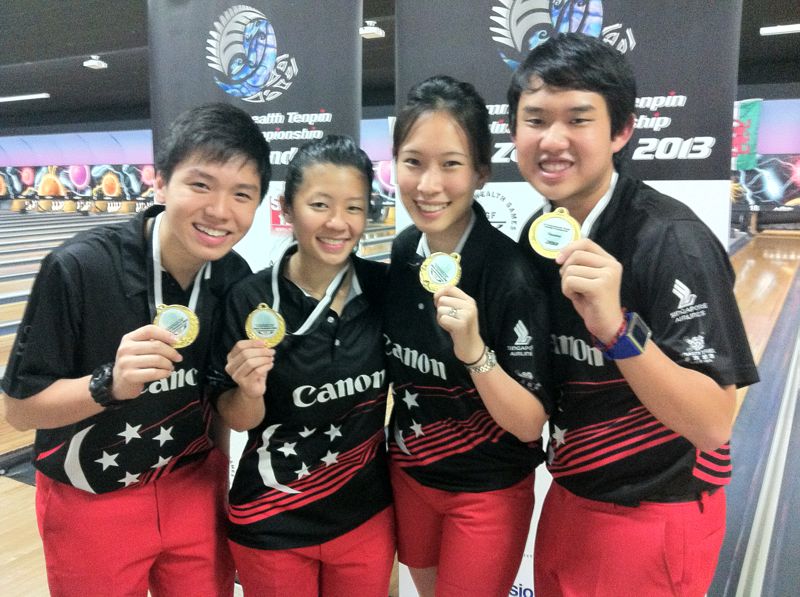 1st March, Auckland: Team Singapore picked up their third gold medal of the VI Commonwealth Tenpin Bowling Championships 2013 after displaying a classy performance to emerge champion in the Mixed Team event.
The double winning pairs of Javier Tan, Bernice Lim, Geraldine Ng and Muhd Jaris Goh clicked well to take the lead at the start of the Mixed Team event with the fancied Team Australia and Malaysia hot on their heels.
While Singapore remained focus to remain in the lead at the end of the first block, Australia and Malaysia were trading second place before the break.
On returning to the second block, Team Singapore was slow off the mark allowing Australia to take over the lead and Malaysia moving into second with Singapore slipping down to third.
But the spirit of Singapore was well shown when they bounced back brilliantly with 870 and 928 in their last two games to secure their third medal with 5273 team total.
Tan downed 1300, Lim 1273, Ng 1275 as anchorman, Muhd Jaris fired a stunning 1425 to give the team 137 pins margin for the victory.
"The men and women bowled great! It was a pleasure working with them and for the men's team I believe this tournament is a good stepping stone to prove themselves and they did it with flying colours," commented coach, Remy Ong. "I am really looking forward to more in the months and years to come."
Australia settled for the silver medal with 5136 while Malaysia, who has yet to win a gold medal, finished third to take the bronze medal with 5074. England finished fourth with 5057.
All four Singaporeans made the cut for Masters finals. Muhd Jaris finished second with 5300 pinfalls in the All Events standings behind Sam Cooley of Australia while Javier Tan took sixth spot with 5035.
Geraldine Ng also finished second with 4961 behind England's Lisa John as Bernice Lim took fifth spot with 4915.
The top 12 men and top 12 women will contest the 12-game Round-robin Matchplay Masters finals and the top 3 men and top 3 women will advance to the stepladder finals for their final gold medal.
| Photo Album |
Photo courtesy of Barry Lynch.