Canon's "THINK BIG" Convention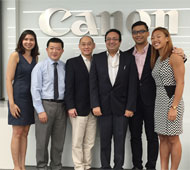 22nd March, Singapore: Canon organized a two day "THINK BIG" Convention which culminated in a talk between Dr Edgar Tham, Sport & Performance Psychologist, Stephenie Chen, National Canoeing Athlete, Yip Ren Kai, Ex National Water Polo Athlete and our very own Jasmine Yeong-Nathan, representing Bowling.
The program labeled the segment as "Extraordinary People, Extraordinary Passion", aptly named as we were able to get an in depth view of how these athletes managed to maintain their elite standing in their national teams as well as juggle their various commitments and how us mere mortals are able to use these examples and apply them to our own life.
Dr Edgar Tham: How did you get started in the sport?
Jasmine: I got started because my older brother, Jason, was in the national team. I tagged along for his trainings and competitions until my mother asked if I wanted to give it a shot. The rest, as they say, is history.
Dr Edgar Tham: You did very well during the Brunswick Euro Challenge. We would like to thank Canon for being a long time SingaporeBowling sponsor and playing a part in this success. How do you keep the passion after being in the sport for so long?
Jasmine: I love the sport. It is always changing, the oiling of the lanes is always different, even in the same competition. The challenge is always present and even more so with the ladies' team of SingaporeBowling. The standard is incredible and it is such a good environment to be around with world class bowlers, pushing each other to be better.
Dr Edgar Tham: Can you give us some lessons learnt on working with people? Let's be realistic. Conflicts will always arise. So how do you deal with them?
Jasmine: You can't blame someone to want to be the best. There are only so many spots on the team, we aren't able to accommodate everyone and your results are what get you there. It is crucial to be mindful of someone's character, on knowing when to be soft and when to be hard in order to get the best out of the person. After being with the same team for ten years, we kind of know how the other people tick and how to deal with them. We've learned to share about what makes each other unhappy and being such a close knit group has helped us rise above adversity.
Dr Edgar Tham: Just like the Brunswick Euro Challenge, where you actually beat out Kelly Kullick and other world champions, we know that champions don't necessarily stay at the top. How do you deal with failure?
Jasmine: After the 2009 World Cup when I won, I went through a really low point. I came back in 2014 and tried out for Asian Games where I didn't make the team. I actually took a whole year off to train and I didn't get selected for last year's SEA Games as well. I asked myself if it was really worth it; the opportunity cost was really high. But I realized that bowling helps me in life. It helps with my determination and my drive. So I sat down with the coaches in the beginning of the year to figure out what went wrong and what are the different things that I should be doing.
Dr Edgar Tham: It must have worked! You were the top performing Singaporean in the recently concluded Brunswick Euro Challenge. How do you manage pressure and expectations?
Jasmine: I've been bowling for quite a while. You learn to love the pressure. It comes to a point that you don't see it as pressure. It's all in your head. Your process is the same although your competitors are different, the oiling of the lanes are different. I remind myself why I got started with the sport and why I love the game. I clear my mind and think about the present and what I can control.
Dr Edgar Tham: I did an independent survey with some students. Half of them were student athletes and the rest were from clubs and societies. Not taking away anything from the rest of them but I found that student athletes to be more resilient. They were mentally stronger. In sports, you have an opportunity to fail, to fight with your inner monsters. We can actually use the power of sport to build a nation. It is a powerful medium indeed. In recent months, there has been a lot of talk about a bad economy. What advice have you learned in the sport that can be helpful with dealing with the new world order?
Jasmine: Just take the last tournament I was in: I was doing very well initially. The ball was rolling the right way and everything. But towards the end of the tournament, I was throwing the same shot and when it mattered, the ball went long. When something like that happens, I learn to adapt. Slow down my ball speed. Don't do the same thing over and over whilst hoping for a different outcome. Adaptability is very important. When you lose, you naturally reflect in order to better yourself in the next tournament. But when you win, it is equally important to reflect to know what went right and try to replicate it.
It was an insightful view on how we are able to use sports as a metaphor for life and Dr Edgar Tham, Ren Kai, Stephenie and Jasmine were delightful to listen to. We at SingaporeBowling would like to thank Canon for organizing this symposium and inviting Jasmine to be part of the panel.
Photos by SingaporeBowling.