A Perfect end for Singapore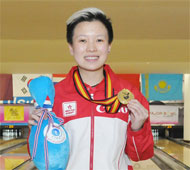 26th January, Bangkok: Singapore concluded the 23rd Asian Tenpin Bowling Championships on a high with their second gold medal after top seed, New Hui Fen bagged the Women's Masters title at Blu-O Rythm & Bowl Ratchayothin on Monday.
But the national kegler had to come from behind after going down to second seed and challenger, Son Yun Hee of Korea, 208-240 in the first match.
Hui Fen fought back gallantly when she went on a strike-fest after the Korean had a split in the fourth frame, by reeling in nine strikes-in-a-row to beat Son, 270-193 to win her second gold medal.
"I was having difficulty finding a good line to bowl and although I made several changes, I just didn't get the strikes I need," said the 22-year-old who won her first gold medal in the Trios event four days ago.
"I made better shots in my second match and I was able to get the strikes. The Korean made one bad shot in the fourth frame for a split and that made the difference."
The 31-year-old 2013 World Championships Masters gold medalist, who settled for the silver medal, had earlier ousted Doubles gold medalist, Sin Li Jane of Malaysia, 225-162 in the semi-finals to reach the finals.
Meanwhile it took the 2006 Doha Asian Games singles gold medalist, Ryan Lalisang of Indonesia six years before winning a gold medal in an official championship.
Like Hui Fen, the top seed was forced to go into the second deciding title match after he was narrowly beaten, 231-241 in the first match by third-seed and challenger, Mostafa Al Mousawi of Kuwait.
But the Indonesian bounced back brilliantly when it mattered most, rolling eight strikes-in-a-row and opened up a 60-pin gap over his opponent. And when the 16-year-old Kuwaiti had a big split in the seventh frame, Lalisang was well on his way to claim victory.
Lalisang ended the match with 268 and Mostafa finished with a turkey to settle for the silver medal with 215.
Mostafa had earlier eliminated Trios and Team gold medalist, Hong Hae Sol of Korea, 209-183 in the semi-finals to earn his right to challenge the top seed in the final.
In the earlier second block Masters finals, the 34-year-old champion ended the block with 3901 averaging 236.31 and winning five of the eight matches contested to advance to the stepladder finals as top seed.
Hong finished 145 pins behind Lalisang with 3756 while Mostafa advanced as third seed with 3714. Choi Bok Eum of Korea, who was second in the first block, missed the cut by 98 pins to finish fourth.
Although Singapore added a second gold with victory in the Masters to their medal tally, Korea claimed the women overall champion title with 2 gold, 3 silver and 2 bronze medals.
Singapore finished second with 2 gold and 1 silver medal. Japan won 1 gold and 2 silver medals while Malaysia was fourth with 1 gold and 4 bronze medals.
Korea had a medal haul of 4-1-3 to claim the men overall champion title well before the outcome of the Masters event. Japan and Indonesia tied second spot with 1 gold each.
Korea also emerged as overall champion with a total haul of 6-4-5. Japan was second with 2 gold and 2 silver medals. Singapore had 1 silver less than Japan to finish third in the overall medal tally.
A total of 125 men and 76 women from 21 countries took part in the 10-day championships held at Blu-O Rythm & Bowl Ratchyoithin. Eight perfect games were bowled and a total of 10 new records were set. The next Asian Tenpin Bowling Championships will be hosted by Kuwait in 2016.