PRESS RELEASE
14 May 2017 – Cherie Tan breaks into PWBA Fountain Valley Open Finals
SingaporeBowling is pleased to announce that Cherie Tan, silver medallist at the 2016 Professional Women's Bowling Association (PWBA) Smithfield Championship Tour has qualified for the stepladder finals of the Fountain Valley Open event.
The PWBA Fountain Valley Open is the third of fourteen events on this year's PWBA Tour schedule – 83 bowlers competed on the event.
It is the first time that our bowlers Sports Excellence scholars (spexScholars) Cherie Tan, Daphne Tan, New Hui Fen, Jazreel Tan and Shayna Ng are competing in this event.
After three qualifying rounds, Daphne Tan, Shayna Ng and Cherie Tan made it to the round-robin match play in which the top twelve bowlers faced off against each other. They were the third, tenth and eleventh seed, with a total of 3,842, 3,765 and 3760 pinfalls respectively.
The spexScholars continued to give their contenders a run for their money and made it into the top eight for a place in the group stepladder finals – Daphne and Cherie in Group A and Shayna in Group B.
Shayna faced off Liz Johnson who has won five PWBA tour titles since 2015. A close match ensued where Shayna was narrowly piped for the win.
Sisters Daphne and Cherie faced off each other for one of the two remaining spots for the stepladder finals. Cherie eventually prevailed to secure herself a spot in the finals, where she will meet Kelly Kulick, Verity Crawley and Liz Johnson.
"The lane conditions were pretty challenging, but I stuck to my routine to take it one shot at a time and pick up my spares," said Cherie, who was champion at the 2016 PWBA Sacramento Open.  "It was great bowling against Daphne. I'm excited to be bowling at the televised finals at Baton Rouge."
The stepladder finals will be taped 23 May 2017 at the Raising Cane's River Center in Baton Rouge, Louisiana and will air on CBS Sports Network on Tuesday, 20 June 2017 at 8 p.m. Eastern time.
Next up for the ladies is the United States Bowling Congress Queens (USBC Queens) from 17 to 23 May 2017. They will be joined by teammates Tracy See and Jasmine Yeong-Nathan, as well as spexScholars Bernice Lim and Joey Yeo.
Bernice will go in to the USBC Queens as the defending champion. She is only the sixth non-American kegler to hold the title.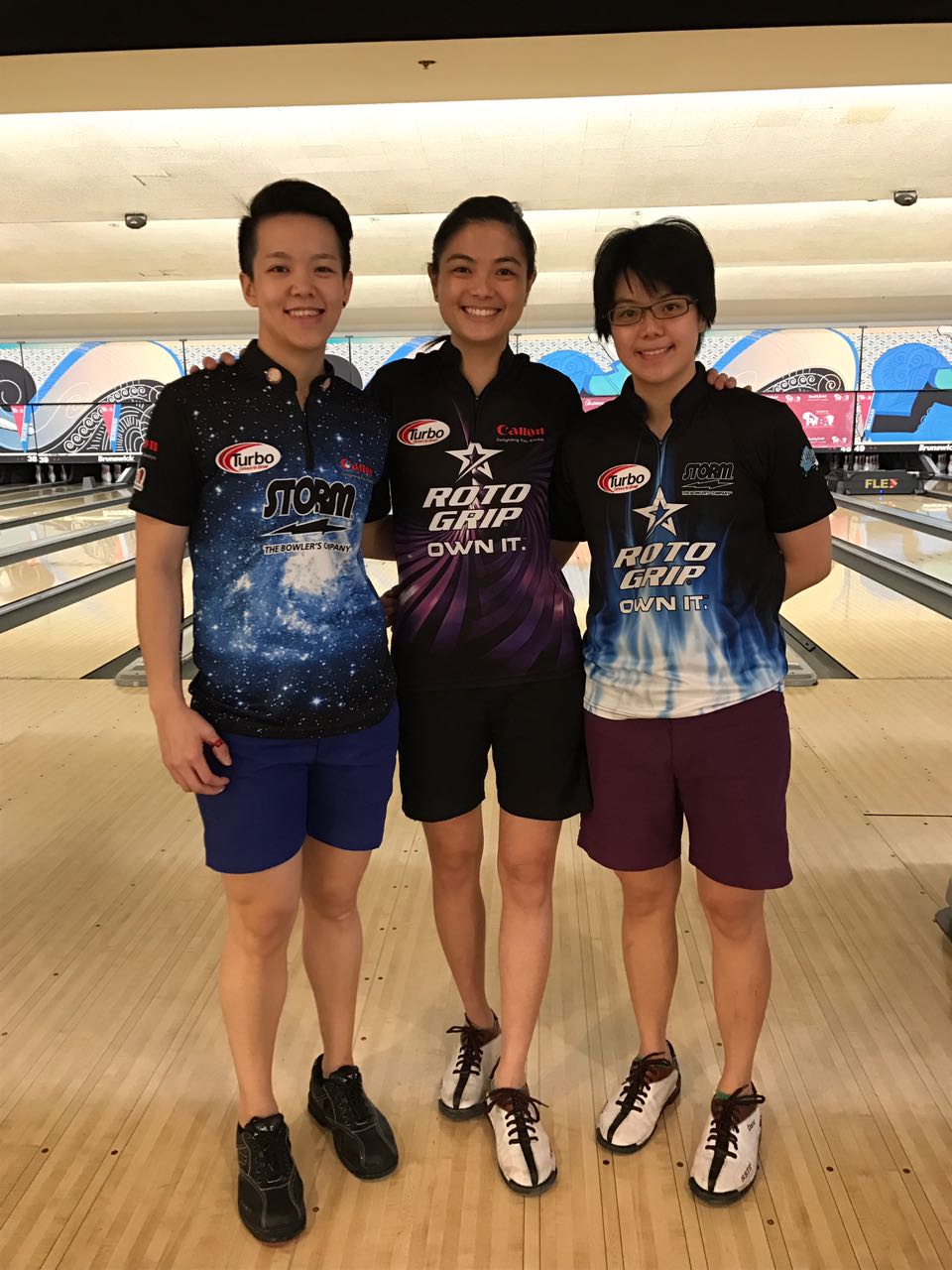 From left: Semifinalists Shayna Ng, Daphne Tan and Cherie Tan.
Cherie Tan will proceed to the televised finals of the Fountain Valley Open.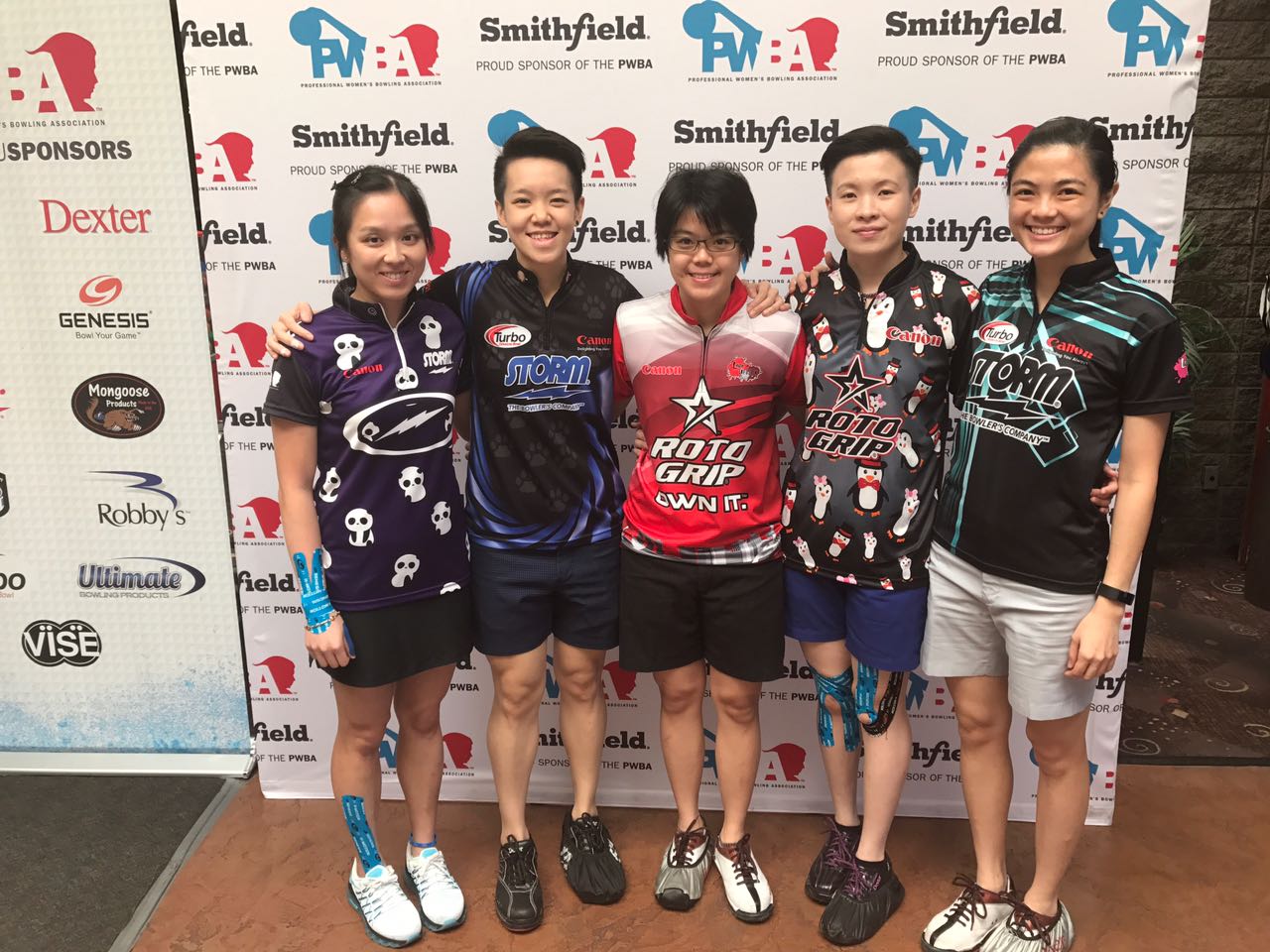 The team who took on Fountain Valley Open
(From left: Jazreel Tan, Shayna Ng, Cherie Tan, New Hui Fen, Daphne Tan)