10th Collegiate League 2014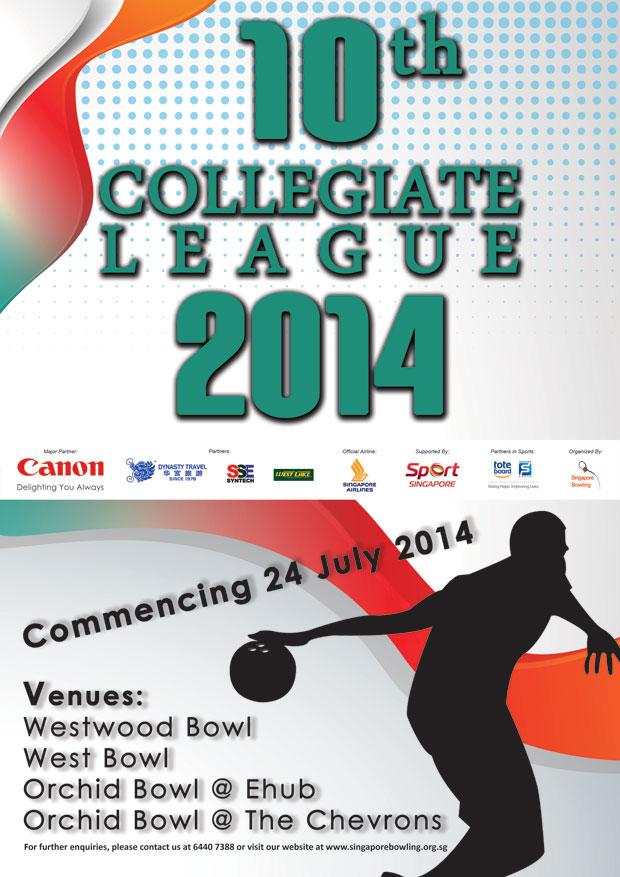 The Singapore Bowling Federation is proud to bring you back the 10th Collegiate League 2014 commencing July 24 for 13 weeks rotating amongst Westwood Bowl, West Bowl and Orchid Bowl @ Ehub/Orchid Bowl @ The Chevrons.
Tenpin Bowling has been, is and will continue to be one sport that Singapore can always count on to deliver: to bring home the medals and glory and honour for our country. The recognition is once again reflected when we are once again confirmed as one of the CORE SPORT in Singapore. The number of bowling enthusiasts has been increasing rapidly over the years, especially amongst our youths in colleges. In January 2005, SBF successfully launched a National League which attracted 20 teams throughout the country.
In line with our aim to enhance the level of competitiveness amongst our bowlers in colleges and foster closer bonds amongst the bowling fraternity, we are happy to bring you back the 9th Collegiate League. Like the previous edition, the 8th Collegiate League will have 14 teams competing on a weekly basis two bowling centres – Westwood Bowl and West Bowl.
Download the Rules & Regulations, Schedule, Prize List and Registration Form for more information.
Check out the SBF blog for latest LIVE resuts.
Organized by:
Singapore Bowling Federation
No. 100 Tyrwhitt Road
#02-05 Jalan Besar Swimming Complex,
Singapore 207542
Tel: 65 6440 7388
Fax: 65 6440 7488
Email: general@singaporebowling.org.sg
Deadline for submission of entry form: July 21, 2014